At the Estadio Nacional de Lima in Lima, Peru, in a tense 2026 World Cup qualifying game, Lionel Messi displayed his talent by scoring two essential goals to earn an Argentina victory of 2-0. Messi. Who played the whole 93 minutes, showed signs of regaining his form following a recent injury that kept him out for the majority of the previous six weeks while he was playing for MLS team Inter Miami.
Messi had excellent agility and aggression throughout the game, causing two stumbles from Peruvian defenders as he maneuvered across the midfield and around the goal line. Messi expertly accomplished his two goals, both of which were scored in the opening period, by positioning himself to take advantage of clear attempts on goal.
What Argentine coach said about Lionel Messi:
In addition to praising Messi's performance, Argentine coach Lionel Scaloni emphasized the significance of both his good health and his skillful time management, with 12 points after this victory, Argentina was able to hold onto first place in the CONMEBOL standings.
Lionel Messi positioned himself in the center of the box for his first goal and took a precise ball from Nicolás González. In the 32nd minute, he displayed his great technique by finding the top right corner of the goal with a well placed left-footed strike. He then displayed his joy with his teammates by leaping over a downed Peruvian defender.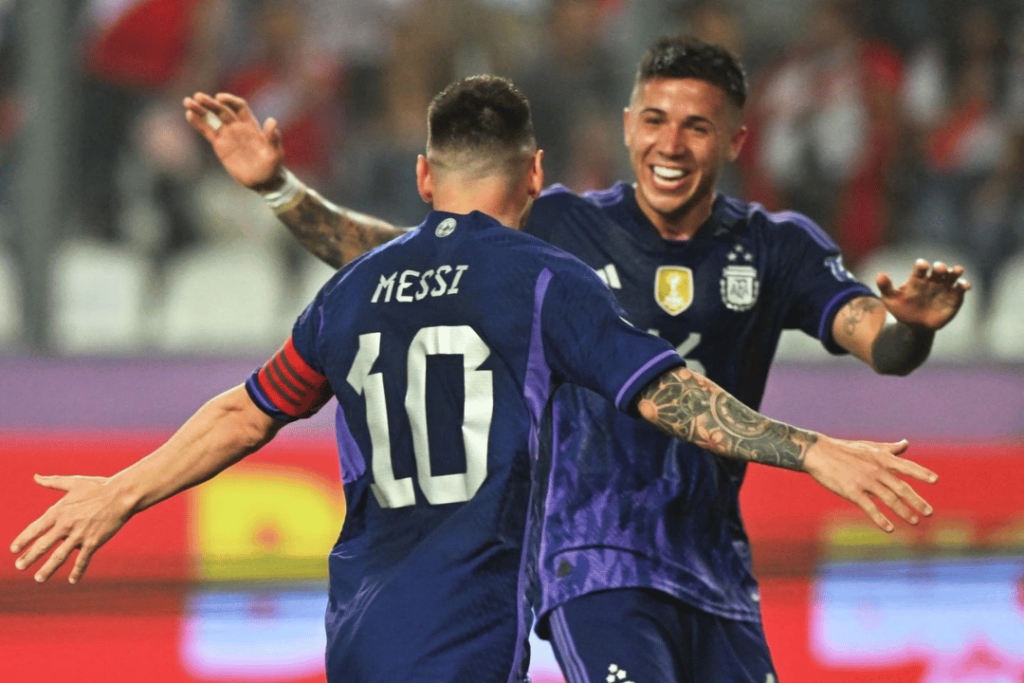 Ten minutes later, Messi converted a left footed effort into the lower left corner of the goal in the 42nd minute after receiving a cross from Enzo Fernández. Despite many chances, including a free kick in the 88th minute, not producing the desired outcomes, his desire to complete a hat trick was still clear in the second half.
Lionel Messi underlined the team's strength and the adopted established style of play when discussing Argentina's performance. Following their World Cup victory, he highlighted his confidence, unity, and optimism, expressing hope for continuing development.
While Messi's comeback delighted fans, MLS fans may have been disappointed by his absence from Inter Miami's most recent games including the U.S. Open Cup final versus Houston Dynamo. It was eagerly awaited when he made a comeback, but it also signaled the end of his rookie MLS campaign because he won't play in Inter Miami's final games.
Read More:USMNT Bounces Back with Convincing Victory
Lionel Messi's outstanding display against Peru demonstrated his return to form and left supporters clamoring to see more of his magic on the field. His forthcoming commitments include international friendlies with Inter Miami in China before he returns to the Argentine team for upcoming games against Brazil and Uruguay.