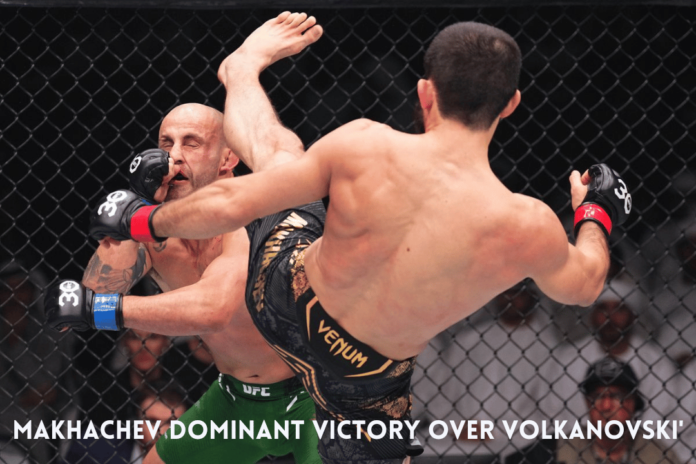 In a highly-anticipated rematch at UFC 294, Islam Makhachev secured a resounding victory in the lightweight title bout against Alexander Volkanovski. Makhachev's dominance was on full display as he executed a well-placed head kick in the opening round, ultimately sealing his triumph with a series of ground strikes.
Makhache vs Volkanovski's Journey fight in UFC 294 :
Notably, Volkanovski, who stepped into this contest as a last-minute replacement for the injured Charles Oliveira, demonstrated an impressive feat of discipline by shedding a remarkable 26.5 pounds in just 11 days. Despite the challenging circumstances, Volkanovski exhibited unwavering determination, emphasizing the immense significance of this fight for his legacy.
In the co-main event, Khamzat Chimaev further solidified his path toward a future title shot by outdueling former welterweight champion Kamaru Usman. Usman, who accepted the fight on relatively short notice, grappled with Chimaev's early takedowns, ultimately succumbing to a majority decision loss.
Volkanovski's journey to the rematch was remarkable as he ventured beyond his usual featherweight division to confront Makhachev for the coveted lightweight championship. This clash marked the second meeting between the two fighters, with Makhachev previously clinching the UFC lightweight title at UFC 284 earlier in the year.
For Volkanovski, this bout carried exceptional significance, as he recognized that it might be his final opportunity to contend for the lightweight title. The immense pressure to deliver his best performance on concise notice added to the gravity of the situation for the Australian fighter.
The bout between Volkanovski and Makhachev promised a showdown between two of the UFC's top pound-for-pound fighters. Makhachev's remarkable 12-fight winning streak, including his earlier victory over Volkanovski, underscored his dominance in the lightweight division.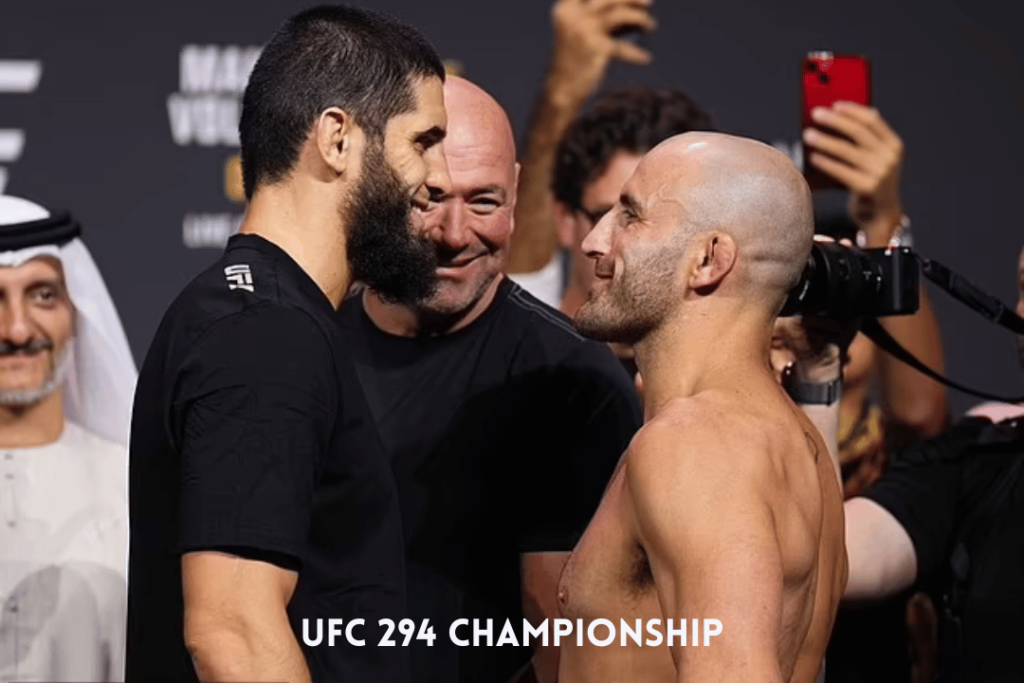 Volkanovski, currently holding the UFC featherweight championship, aspired to join the prestigious ranks of simultaneous double champions in UFC history, a distinction shared by legendary figures such as  Daniel Cormier,  Amanda Nunes, Conor McGregor and Henry Cejudo.
Lionel Messi's Stellar Performance Leads Argentina to a 2-0
Makhachev's triumph in the main event of UFC 294 was a definitive statement. He ended doubts regarding his rivalry with featherweight champion Alexander Volkanovski, concluding the bout at 3:06 of the first round with a well-placed head kick followed by ground-and-pound at the Etihad Arena in Abu Dhabi, United Arab Emirates.
Their previous encounter at UFC 284 in February had set the stage for this rematch. Charles Oliveira, the former champion, had to withdraw due to a training injury, prompting Volkanovski to accept the challenge on just 11 days' notice.
Makhachev remained in control throughout the bout, demonstrating his exceptional skills and versatility without resorting to his renowned wrestling abilities. Volkanovski, who had provided one of the sternest tests in Makhachev's career, was aiming to join the exclusive group of fighters who have held titles in multiple weight classes simultaneously.
Makhachev acknowledged Volkanovski's determination and resilience, noting that he was a fighter who would never give up. Despite the knockout loss, Volkanovski had displayed the spirit of a true champion in UFC 294.
Volkanovski expressed his appreciation for Makhachev's precise setup leading to the knockout and indicated his desire to potentially return to the featherweight division to face Ilia Topuria in January. However, a significant cut on his right eyebrow might influence the timeline for his return.
The fight had been a source of considerable tension for Makhachev, who believed he had convincingly won their initial encounter and was further motivated by Volkanovski's accolades for stepping in on short notice.
On the night of the fight, Makhachev demonstrated his superiority, highlighting his well-rounded skills. He meticulously targeted Volkanovski's body before delivering the decisive head kick, even as Volkanovski's guard was up. The head kick landed squarely on the top of Volkanovski's head, sending him stumbling backward towards the cage.
Makhachev wasted no time, swiftly mounting Volkanovski and delivering mighty hammer fists. The referee, Marc Goddard, promptly intervened to halt the contest, igniting a jubilant celebration.
In another captivating co-headline event at UFC 294, Kamaru Usman and Khamzat Chimaev squared off in a particular middleweight bout, further contributing to the anticipation and excitement of the overall fight card.