The US Men's National Team (USMNT) was reminded that there is work to be done to compete at the highest level of international competition after the US suffered a humiliating 3-1 loss at the hands of Germany over the weekend. But just three days later, the US met Ghana and won an astounding 4-0, with all goals coming in the first half, showing resiliency and tenacity. Gio Reyna's first international career hat trick, combined with goals from Christian Pulisic and Folarin Balogun, gave the hosts a convincing victory while Ghana played with little interest.
In the 10th minute, Gio Reyna took advantage of a chance to start the scoring. Tim Weah's penalty kick allowed Christian Pulisic to score from the spot in the 19th minute to double the lead. right a few minutes later, Folarin Balogun added a third goal, and Reyna scored his second goal right before halftime. With Sergino Dest putting his problems against Germany behind him with a superb effort, the US dominated the first half. Goalkeeper Matt Turner only had to make one save, but it was a big one right before halftime.
This huge victory gives the USMNT players a much-needed lift as they return to their clubs and gives them a taste of triumph going into the October international break, even though the mistakes from the Germany setback were not forgotten.
Scorers of the goal (USMNT vs Ghana):
Reyna (10, 39, Pulisic (19), and Balogun (22) for the USA 4
Ghana 0
Match Specifics:
7:37 p.m. local time (5:37 p.m. PT; 8:37 p.m. ET)
GEODIS Park in Nashville, Tennessee
Marco Antonio Ortz Nava (MEX) is the referee.
Initial lineups:
4-3-3 USA (right to left):
(GK) Matt Turner
Miles Robinson
Sergino Dest
Chris Richards was replaced at the 73-second mark by Cameron Carter-Vickers.
Kristoffer
Lennard Maloney replaced Johnny.
Yunus Musah (replaced at the 75th second by Luca de la Torre)
Gio Reyna was replaced at the 46th second by Weston McKennie.
Tim Weah
Folarin Balogun (Ricardo Pepi came on at 46′)
Christian Pulisic (replaced at the 46th second by Brenden Aaronson)
Ghana (4-3-1-2, from right to left).
Abdul Nurudeen (GK) 12)
Alidu Seidu
Nicholas Opoku
Jacob Opoku
Gideon Mensah (Kingsley Schlinder replaced him at the 46′ mark)
Salis Samed took the place of Thomas Partey after 64′.
Yaw Yeboah Paintsil (replaced at the 64-yard mark by Owusu)
Mohammed Kudus (Nuamah replaced him at the 75-yard mark)
At the 75-yard mark, Inaki Williams was replaced by Benjamin Tetteh Semenyo.
Jared Ayew
Match Highlights:
FULLTIME: USMNT(USA) 4-0 Ghana
The US maintained control and won easily, with no goals being scored in the second half. The hosts put up an impressive show during the game, barely being hampered at any point.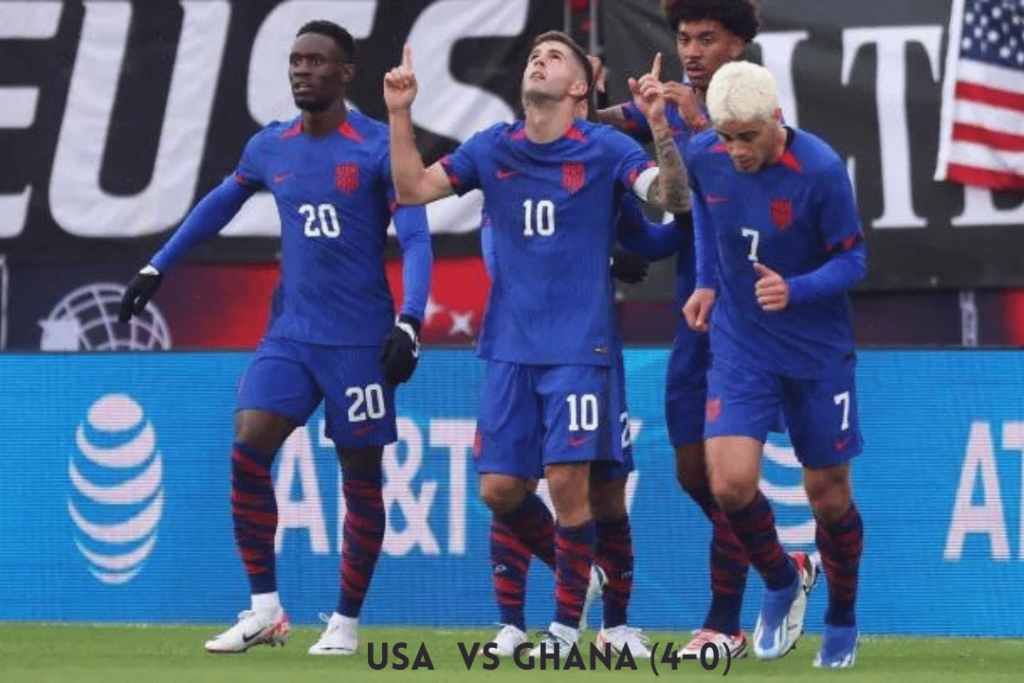 Highlights from the second half (82nd minute to end):
The US defense stops Jordan Ayew's attempt.
Luca de la Torre successfully clears a corner that was conceded by Matt Turner.
Ghana uses alternatives, but they have trouble creating possibilities.
A risky cross is delivered to the penalty area by Tim Weah.
The top corner is so close to being reached by Weston McKennie's long shot.
Second half (minutes 64 to 82):
For both teams, several substitutes are made.
Thomas Partey of Ghana takes over as captain, while Gideon Mensah is replaced.
Lennard Maloney debuts for the USMNT.
With his runs, Sergino Dest keeps dazzling the audience.
A chance for a goal is produced by Tim Weah.
Ghana tries to take possession, but the US retains control.
Ghana 4-0 USA at halftime.
Gio Reyna, Christian Pulisic, and Folarin Balogun all scored during the United States outstanding first half. The USMNT convincingly ended its battle with Germany, but Ghana's performance was mediocre, marked by giveaways and dissatisfaction.
Read More: CEO Conundrum: Attending "Davos in the Desert"
41st to 45th-minute highlights of the first half:
Mohammed Kudus of Ghana had a fantastic shot that Matt Turner beautifully blocked.
Gio Reyna and Christian Pulisic combined on a fantastic goal for the USA after receiving an indirect free kick inside the penalty area.
The close-range shot by Christian Pulisic is stopped.
Thomas Partey is given a warning for injuring Gio Reyna.
First Half (2 minutes to 39 minutes):
The USMNT kicks off the match with a free kick.
Despite being fouled, Christian Pulisic is not penalized.
Folarin Balogun tries to flick, but the goalkeeper stops him.
Excellent play is displayed by Sergino Dest.
Tim Weah generates a chance for a goal.