In an important political development, Republican Representative Jim Jordan's bid to become Speaker of the U.S. House of Representatives was unsuccessful. The right-wing Ohio congressman was opposed by members of his own party, and he was unable to garner enough votes on the first try, leaving the lower chamber of Congress without a leader for 15 days. The passing of bills and requests for emergency relief are two important legislative processes that are critically impacted by this leadership vacuum.
The initial vote:
Jim Jordan received 200 votes in the first ballot on Tuesday, falling short of the 217 votes needed to win a majority in the chamber and become Speaker. Hakeem Jeffries of New York, his Democratic opponent, garnered 212 votes, all from members of the minority party.
Jim Jordan, a devoted supporter of the late President Donald Trump, is unfazed by the initial setback. We're moving forward, he said, expressing certainty in his eventual triumph. I'm satisfied with it. We're going to carry on.
The Republican Initiative:
Jim Jordan's biggest difficulty is winning over his own party. He has a 221-212 Republican majority in the house, so he can only afford to lose four Republican votes. However, in the first vote, 20 Republicans abstained from supporting him. While some people voted for Kevin McCarthy, the outgoing Speaker who was defeated on October 3, others supported alternative candidates.
Notably, three Republicans actually cast a ballot for Lee Zeldin, a former congressman from New York who retired earlier this year. A group of Republican lawmakers from New York were among those who voted against Jim Jordan, citing his opposition to benefits for 9/11 attack survivors as well as other political differences. Despite his assertions that he is making progress, Jim Jordan will have a difficult time persuading these Republican dissenters to support his campaign.
The Political History of Jim Jordan:
Jim Jordan is no new to controversies and disagreements within his own party. He is a founder of the House Freedom Caucus, a group of ultra-conservative lawmakers sometimes called as legislative terrorists by former Republican Speaker John Boehner. Due to his affiliation with this caucus and his aggressive demeanor, the Republican Party has become more divided.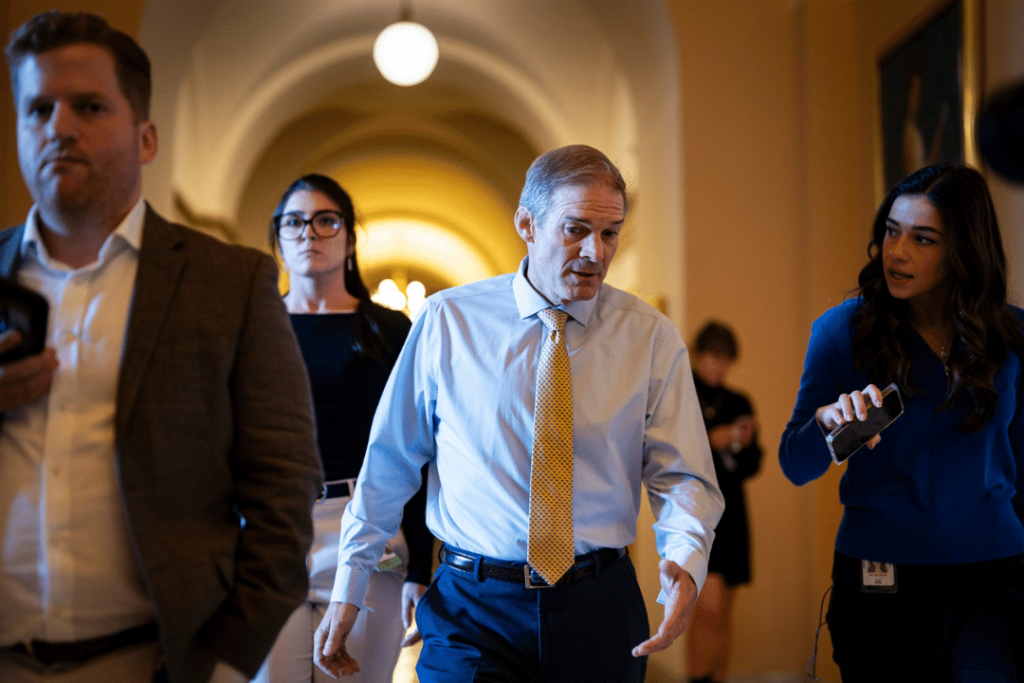 Republicans responses:
Jim Jordan met with some of the Republicans who had opposed him after the initial vote. Others signaled that they might not modify their votes, while some people said they were still open to more discussion. Jordan's refusal to recognise former President Donald Trump's defeat to Joe Biden in the 2020 election is a major bone of contention.
Florida's Mario Diaz-Balart highlighted that he did not feel coerced into changing his vote and cautioned against any intimidation tactics. Lori Chavez-DeRemer of Oregon proposed giving Patrick McHenry more authority as interim speaker to keep the House running during this leadership crisis.
Democratic Reaction:
 Democrats are portraying Jim Jordan as an extremist and closely monitoring the upheaval within the Republican Party. They draw attention to his outspoken rejection of the 2020 election results. Former Speaker and California Democrat Nancy Pelosi commented that Jordan had misjudged the opposition to his candidacy and quipped that Republicans needed lessons in math and voting procedures.
The Democratic minority leader, Hakeem Jeffries, volunteered to collaborate with Republicans to find a Speaker who could win over both parties. The way to a resolution might be smoother now that Jim Jordan's chances appear to be dwindling, he indicated to ongoing informal discussions.
Future Possibilities:
Tom Emmer of Minnesota, who is currently ranked third among House Republicans, might become the next prospective candidate for Speaker if support for Jim Jordan continues to dwindle. It's important to remember that Kevin McCarthy, the last Speaker, had to endure a protracted voting process before winning the gavel. There were 15 rounds of voting spread out over four days.
Read More:Jim Jordan's Powerful Bid for House Speaker
The Consequences:
The House of Representatives has been without a Speaker for a sizable amount of time as a result of the protracted leadership dispute. The inability to pass legislation and grant the White House's demands for emergency relief is a result of this scenario. The necessity of resolving this leadership crisis is obvious as matters of national importance, like support for Israel during its fight with Hamas, remain unresolved.
As the second in line to the presidency after the vice president, the position of Speaker of the House has a lot of weight and responsibility. Therefore, how this leadership conflict is resolved continues to be a key issue in American politics. The future of House leadership is unknown as Jim Jordan pursues the Speaker's gavel, which has consequences for the country's governance and decision-making procedures.