The United States is poised to make a significant statement as it competes against Europe at the Ryder Cup 2023 in Rome, with the aim of ending a three-decade-long drought. Despite their success on home soil, the American team has faced challenges in winning a Ryder Cup hosted in Europe since 1993, and the desire to reclaim this prestigious trophy has reached a fever pitch.
Just two years ago, the United States fielded what was arguably their youngest and most talented Ryder Cup squad to date. While it might have been tempting to retain the same team for the Rome tournament, a notable shift in the roster has occurred due to exceptional performances by certain golfers this season, resulting in unexpected automatic qualifiers securing their spots.
Regardless of the final outcome, the Ryder Cup 2023 promises to be a highly competitive and captivating event.
Ryder Cup 2023 Rome:
If the Ryder Cup 2023 in Italy this year mirrors the intensity of the previous European showdown at Le Golf National in 2018, golf enthusiasts worldwide are in for a thrilling spectacle. Ryder Cup crowds are renowned for their spirited and boisterous support, and there's every reason to expect nothing less in Italy.
One American golfer to watch closely during this Ryder Cup 2023 is Max Homa, a confident Californian. Homa made a spectacular debut in professional team competition at the Presidents Cup last year, winning all four of his matches and showcasing remarkable composure, particularly during high-pressure putts.
For Homa, the opportunity to represent America in a professional team competition had been a lifelong dream, and it finally materialized at Quail Hollow a year ago. He seized the moment with poise and excellence.
During the final day at Quail Hollow, Homa faced a formidable opponent in Tom Kim, who had emerged as the star player for the Internationals and relished the confrontation. Undeterred, Homa calmly and effectively handled the challenge, tempering the exuberance of the brash Korean youngster.
While Max Homa may be a rookie in the Ryder Cup, Captain Zach Johnson is likely to rely heavily on this dependable all-rounder during the initial two days of the tournament. Betting odds of 10-1 for Homa finishing as the top American points scorer appear quite enticing.
Notably, Homa shares a strong camaraderie with fellow Californian Collin Morikawa, a connection that dates back to Morikawa's teenage years. The two have previously teamed up in the Zurich Classic PGA Tour pairs event, and their chemistry could prove invaluable for Team USA's success. It would not be surprising if Captain Johnson chooses to unleash this dynamic duo at some point during the competition.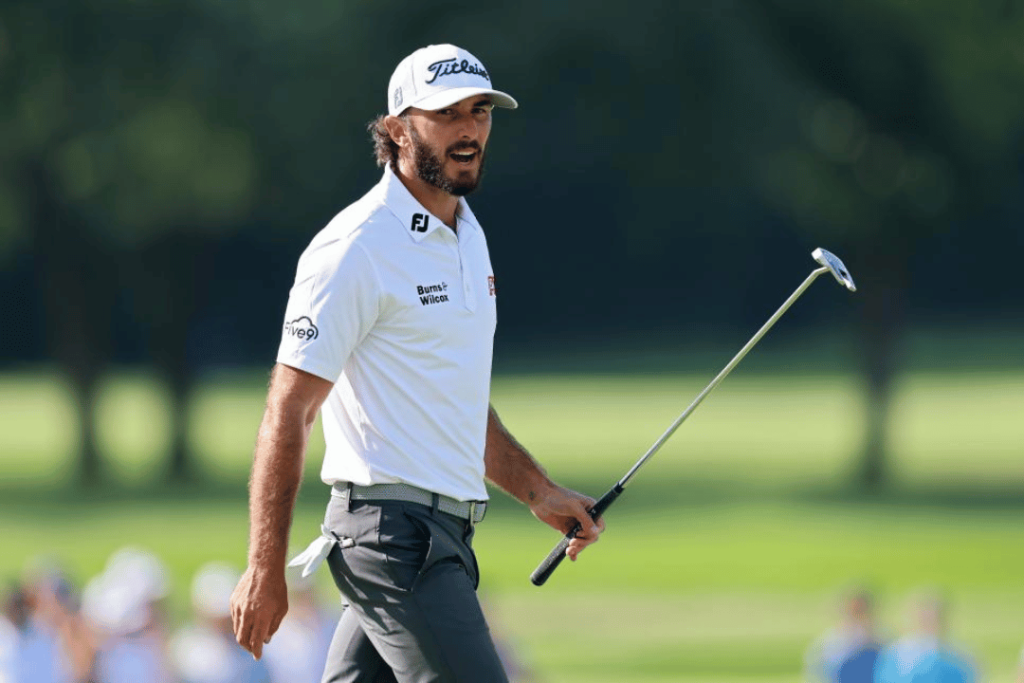 Additionally, Homa has a natural partner in the form of Wyndham Clark, the US Open champion. Both residing in Scottsdale, they have diligently practiced foursomes golf together in recent weeks. Given the cohesion they have developed, it is likely that Captain Johnson will want to leverage this partnership.
Max Homa's recent form augurs well for the Ryder Cup 2023. He is among the select few Americans who have actively competed in September, finishing an impressive seventh in the Fortinet Championship. His consistent performance trajectory from the Scottish Open onward reflects finishes of 12-10-6-5-9-7.
In contrast, some of his American counterparts face various challenges. Scottie Scheffler grapples with putting issues, Patrick Cantlay and Xander Schauffele have limited course familiarity due to missing the American scouting trip, and Brooks Koepka contends with form struggles on the LIV circuit. Consequently, Max Homa could emerge as the shining beacon for the visiting American team.
The Ryder Cup 2023 promises to be a thrilling clash between two formidable teams, each with its unique strengths and challenges. Max Homa, the confident Californian, stands as a potential breakout star for Team USA, offering hope in their quest to end Europe's dominance in Rome. As the tournament unfolds, golf enthusiasts worldwide eagerly anticipate the captivating spectacle that the Ryder Cup consistently delivers.