Rosalynn Carter, a former First Lady renowned for her tireless advocacy in mental health reform and her role in redefining the duties of a presidential spouse, passed away peacefully on Sunday at the age of 96 at her residence in Plains, Georgia.
The Carter Center confirmed her demise, highlighting her profound impact on mental health awareness and caregiving, as well as her pivotal role in human rights and global peace initiatives alongside her husband, former President Jimmy Carter.
A gorgeous Life n Legacy from a Girl to First Lady (Rosalynn Carter) of United States of America:
Jimmy Carter, expressing profound sorrow, hailed Rosalynn as his equal partner in every achievement, emphasizing her unwavering support and guidance throughout his life. The former First Lady, diagnosed with dementia in May, had recently entered hospice care, surrounded by family. Her husband, who had begun home hospice care earlier in the year, lauded her undying love and backing.
While Jimmy Carter's presidency was marked by diplomatic success, such as the Israel-Egypt peace agreement, and challenges like the Iran hostage crisis, Rosalynn Carter stood steadfastly by his side, contributing significantly to their joint endeavors post-presidency. Their humanitarian efforts through The Carter Center, an Atlanta-based NGO focused on peace, disease eradication, and hope-building, reshaped the post-presidential landscape.
Various political figures and former presidents, including Joe Biden, George W. Bush, and Bill Clinton, paid tribute to Rosalynn Carter's legacy, acknowledging her dedication to mental health advocacy and unparalleled partnership with Jimmy Carter, epitomizing loyalty and commitment.
Beyond the White House, the Carters ventured to global hotspots, monitoring elections and championing causes like eradicating neglected tropical diseases. Jimmy Carter's Nobel Peace Prize win in 2002 attested to their enduring commitment to international humanitarian efforts.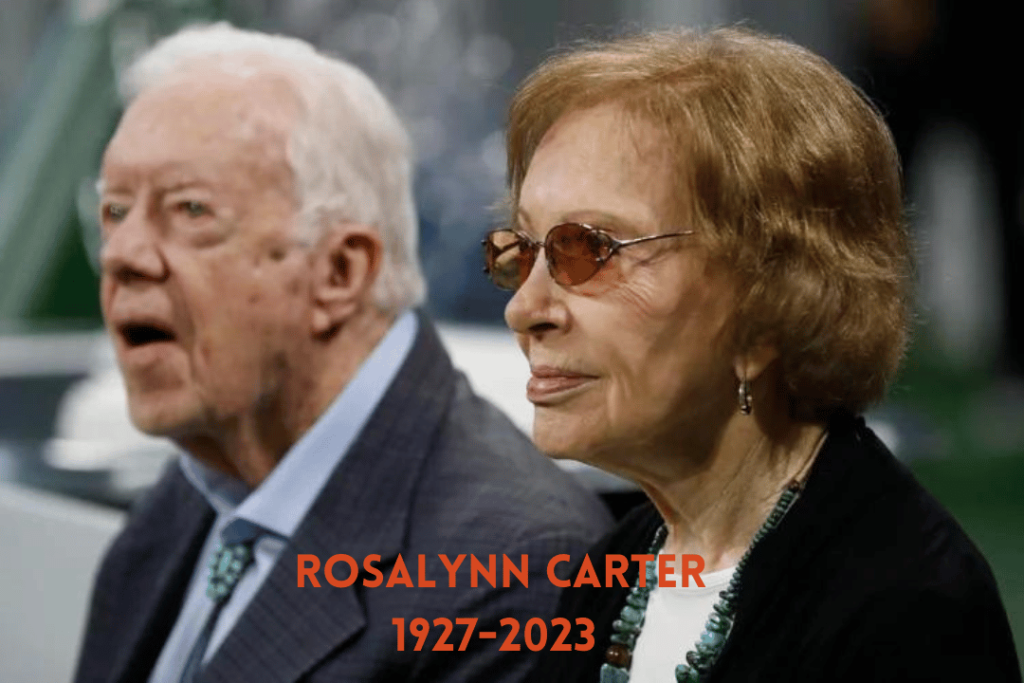 Rosalynn Carter's enduring legacy lies notably in her efforts to destigmatize mental health issues and promote accessibility to mental health treatments. Her involvement extended to founding the Rosalynn Carter Institute for Caregiving at Georgia Southwestern State University, aiding families and caregivers with disabilities and illnesses.
Their extraordinary partnership, often referred to as a quintessentially American story, resonated with Jimmy Carter, highlighting their marriage as the pinnacle of his life. Rosalynn's childhood and early life in Plains, Georgia, intertwined with Jimmy Carter's, fostering a deep connection that culminated in their marriage when she was 18 and he was 21.
Despite facing financial constraints during her upbringing, Rosalynn became integral to a naval officer's life, managing a bustling household while moving frequently due to her husband's career. Their family grew to include four children, and her transformation from a shy housewife to a seasoned political partner paralleled Jimmy Carter's political journey.
Republican Lawmakers Renew Efforts to Censure Rep. Rashida Tlaib Over Controversial Comments
Rosalynn Carter's influence as First Lady was remarkable. She revolutionized the role, establishing an office in the East Wing and advocating for causes close to her heart, including championing the Equal Rights Amendment and contributing to policy discussions, despite facing criticism for her ambitious approach.
Her profound involvement in mental health reform stemmed from personal encounters with a relative dealing with mental illness, driving her to advocate for improved mental health care tirelessly. Her endeavors as Georgia's First Lady and later in the White House led to groundbreaking shifts in mental health treatment paradigms.
In the White House, Rosalynn's involvement extended beyond ceremonial duties. Her active participation in crucial discussions and travels to engage world leaders showcased her political acumen and her direct influence on the president's decisions.
Her commitment to addressing societal issues extended to her opposition to politically risky decisions, advocating for firings, and actively involving herself in campaign strategies. Despite disagreements with specific White House policies, her dedication to advocating for human rights and diplomacy remained unwavering.
The Carters' post-presidential life was distinguished by their return to Plains, where they dedicated themselves to local revitalization projects while simultaneously spearheading The Carter Center's global initiatives. Rosalynn's unwavering dedication to mental health advocacy persisted, shaping her post-White House endeavors.
Her passing evoked tributes from political figures and former First Ladies, underscoring her indelible mark on mental health reform and her enduring commitment to philanthropy.
In conclusion, Rosalynn Carter's life epitomized resilience, compassion, and unwavering dedication to pressing societal issues. Her advocacy for mental health reform, her role in reshaping the duties of a First Lady, and her profound influence on global initiatives alongside her husband continue to inspire generations.
Rosalynn Carter's dedication to mental health reform was not merely a political pursuit; it stemmed from a profound personal understanding of the challenges faced by individuals grappling with mental illnesses. Her compassion and commitment were evident from her early encounters with a distant cousin coping with mental health issues, which profoundly impacted her perceptions and drove her relentless advocacy.
As Georgia's First Lady, Rosalynn orchestrated pivotal shifts in mental health care by championing community mental health centers, steering the state towards a more compassionate and community-based approach to mental health treatment. Her commitment to these issues was only amplified when she stepped onto the national stage as First Lady of the United States.
Her advocacy work was not confined to policy forums but extended into the everyday lives of Americans. Rosalynn Carter traversed the country, engaging with communities and lending her voice to the cause. Her personal touch and genuine concern for individuals grappling with mental health issues resonated profoundly, breaking barriers and fostering conversations that dismantled stigma and promoted understanding.
In the White House, Rosalynn Carter brought an unprecedented level of engagement to her role, transforming the traditionally ceremonial position of First Lady. Her decision to work out of the East Wing allowed her to amplify her advocacy, leading to a substantial staff increase to address pertinent societal issues.
One of her hallmark initiatives was the creation of the Presidential Commission on Mental Health, a pivotal step toward achieving parity for mental health illnesses alongside physical illnesses. Despite initial bureaucratic hurdles, her determination and resolve to destigmatize mental health issues led her to adopt the honorary chairperson role, enabling her to exert considerable influence in addressing the needs of individuals struggling with mental health challenges.
Beyond mental health advocacy, Rosalynn Carter's legacy as a pioneering First Lady resonates through her championing the Equal Rights Amendment (ERA). Her firm belief in gender equality and civil rights led her to advocate fiercely for this amendment, striving to glorify equality in the fabric of American society.
Her unique approach to the First Lady's role, characterized by her active involvement in policy discussions and unwavering dedication to causes close to her heart, faced its share of criticism. Yet, her resilience and steadfast commitment to making a meaningful difference remained undiminished.
Rosalynn Carter's post-White House life, alongside her husband, President Jimmy Carter, was marked by an unparalleled dedication to humanitarian causes. Their return to Plains, Georgia, saw them immersing themselves in community projects, revitalizing their hometown, and contributing to local development initiatives.
The Carter Center, the pinnacle of their post-presidential legacy, symbolizes their commitment to global peace, health, and human rights. Rosalynn Carter's instrumental role in shaping and advancing the Center's mission underscores her enduring impact on international humanitarian efforts.
Her passing signifies the end of an era, but her legacy lives on as an indomitable force for mental health advocacy, gender equality, and humanitarian causes. Rosalynn Carter's life remains an enduring testament to the power of empathy, resilience, and unwavering dedication to effecting positive change in the world.
In remembrance, her life's work inspires individuals worldwide to embrace compassion, champion causes that matter, and strive for a world where empathy and understanding prevail.