In a highly anticipated mid-season clash at Levi's Stadium, the Cincinnati Bengals faced off against the NFC powerhouse, the San Francisco 49ers. This matchup marked a meeting of two franchises with a rich history in Super Bowl classics. Led by their Pro Bowl quarterback, Joe Burrow, the Bengals secured their third consecutive victory with a remarkable 31-17 win. Burrow's exceptional performance drew comparisons to NFL legend Joe Montana as he orchestrated an impressive offence against the formidable 49ers' defence.
Bengals' Joe Burrow's Performance:
Joe Burrow had a career-defining day, showcasing pinpoint accuracy and poise reminiscent of Joe Montana. He completed 87.5% of his passes, connecting on 28 out of 32 attempts for 286 yards. Burrow distributed touchdown passes to three different receivers, further solidifying his status as a rising star in the NFL.
Running back Joe Mixon, a local product from Oakley, California, played a pivotal role in sealing the victory for the Bengals. He capped off an impressive performance with a five-yard touchdown run, tallying 87 yards on 16 carries.
Wide receiver Ja'Marr Chase continued to shine, recording his third 100-yard game of the season with 10 receptions for 100 yards. Joe Burrow also contributed with his legs, adding 43 rushing yards to his impressive passing statistics. Despite nursing an ankle injury, Pro Bowl right end Trey Hendrickson made a significant impact, finishing the game with a crucial sack strip.
Bengals' Linebackers Shine:
While the 49ers' dynamic linebacker duo of Fred Warner and Dre Greenlaw received national acclaim, the Bengals' linebackers stepped up when it mattered most. Logan Wilson and Germaine Pratt intercepted 49ers quarterback Brock Purdy on two consecutive throws late in the second half. Purdy, despite amassing 365 passing yards, was stifled by the Bengals' timely defensive plays, resulting in his first career NFL home loss in nine starts.
Logan Wilson's interception was his 10th career pick, making him the NFL linebacker with the most interceptions in the 2020s. Burrow capitalized on the turnover, connecting with Ja'Marr Chase for a 17-yard touchdown, extending the Bengals' lead to 24-10.
Burrow's Impressive Run:
Burrow's longest run of the season, a 20-yard burst up the middle, set up Evan McPherson's 56-yard field goal, further solidifying the Bengals' lead at 17-10. The Bengals' red-zone defence also proved its mettle, denying the 49ers any points on a series inside the 20. Germaine Pratt's exceptional play, tipping and intercepting a pass, exemplified the Bengals' defensive prowess.
Victor Wembanyama Shines: Spurs Rookie Leads Overtime Victory
Burrow Channels Joe Montana:
Joe Burrow's performance in the first half mirrored that of Joe Montana. He accomplished 21 out of 23 passes for 170 yards and 2 touchdowns. His precision on quick and intermediate throws in the middle of the field left the 49ers' defence struggling to contain him. Although the Bengals missed additional scoring opportunities, Burrow's play established a 14-10 halftime lead.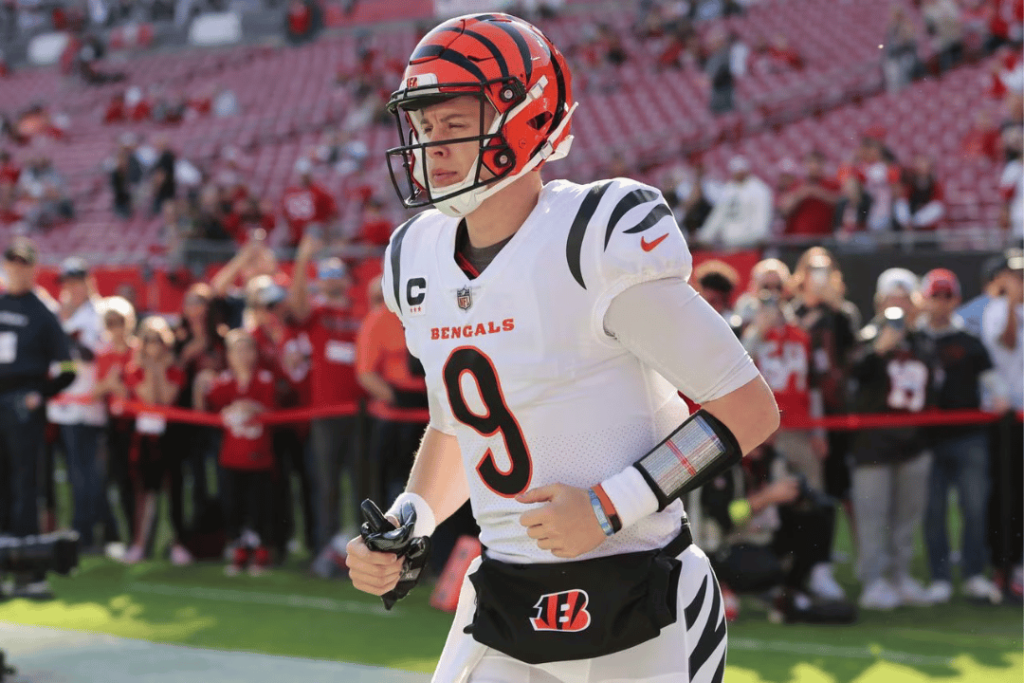 Crucial Moments in the First Half:
During the first half, Burrow displayed remarkable composure under pressure. He skillfully evaded multiple sacks on a critical third-and-ten play, ultimately finding Tee Higgins for a crucial first down. Mixon's explosive 20-yard run set the stage for a touchdown, and the Bengals' offence continued to shine.
The Bengals effectively moved the ball downfield, gaining over 50 yards on first down plays, and capitalized on their scoring opportunities. Burrow's exceptional improvisation and patience allowed rookie wide receiver Andrei Iosivas to secure a touchdown.
Cincinnati Bengals' Defense Holds Strong:
The Cincinnati's defence showcased its dominance during the first half, stopping key 49ers plays and limiting their offensive production. While 49ers quarterback Brock Purdy made some plays, the Bengals' defence ultimately denied them significant yardage. Notably, they held running back Christian McCaffrey to just 31 yards on six carries.
Injury Scare for Trey Hendrickson:
Pro Bowl right end Trey Hendrickson faced an injury scare during the second quarter but returned to the game before halftime, displaying his resilience and determination.
The Cincinnati's victory over the San Francisco 49ers was a remarkable mid-season highlight, with Joe Burrow's exceptional performance drawing comparisons to NFL legend Joe Montana. The Cincinnati's offence, bolstered by standout plays from Joe Mixon, Ja'Marr Chase, and their dynamic quarterback, secured a crucial win. The Bengals' defence held firm, making key interceptions and disrupting the 49ers' offensive flow. This victory solidified the Bengals' position as a rising force in the NFL and left fans eagerly anticipating their future matchups.