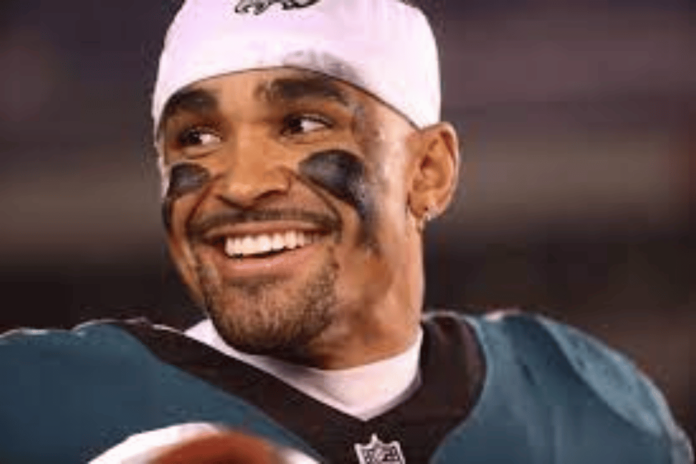 In a thrilling Sunday showdown, the Philadelphia Eagles, led by their resilient quarterback Jalen Hurts, secured a hard-fought victory against the Washington Commanders. Despite suffering from a nagging knee injury, Hurts displayed unwavering determination, throwing for 319 yards and four touchdowns, propelling the Eagles to a 38-31 win. This victory showcased the Eagles as a formidable contender for the Super Bowl, as they overcame a double-digit deficit to improve their record to 7-1.
Jalen Hurts' (Philadelphia Eagles) Gritty Performance:
Jalen Hurts's performance was nothing short of inspirational. Walking gingerly after an early run, it was evident his injured left knee hampered him. However, he refused to let adversity hold him back, leading the Eagles to a remarkable comeback. Despite inquiries about his knee, Hurts remained tight-lipped, focusing on the team's journey and embracing the process.
Hurts stated, "We're just enjoying the journey," highlighting the group's work. "There is one stop we want to make in the end, but it is just a journey. You have to get into the swing of things."
Coach Nick Sirianni, acknowledging Hurts's toughness, praised his quarterback for his outstanding performance and leadership. Despite Hurts's reluctance to discuss his injury, it was evident that he was the driving force behind the Eagles' success.
Sirianni said, "I know he is tough enough, and I won't always know because he won't tell me how he feels because he always wants it on him." "That's what you want from your quarterback, your leader, who played outstanding."
Jalen Hurts's Aerial Show:
Jalen Hurts's determination converted into an exceptional passing performance. He completed 29 of 38 passes, showcasing his accuracy and composure under pressure. Hurts connected with various targets, including DeVonta Smith and Julio Jones, throwing 4 touchdowns in total. Despite his limited mobility due to the knee injury, Hurts's ability to assess the field and deliver precise throws was a testament to his skill.
The Philadelphia Eagles' Passing Game:
With Hurts shouldering the offensive load, the Eagles' passing game shone brightly. Wide receiver A. J. Brown emerged as a standout target, making history as the first player in NFL history to record 125 plus yards receiving in 6 consecutive games. Brown's remarkable one-handed touchdown catch and his ability to secure passes in double coverage showcased his extraordinary talent.
Eagles Strengthen Defense with All-Pro Safety Kevin Byard
"It was something I just practiced on Friday," Brown said, pointing to his one-handed end-zone grab. "Everything was the same, including the corner. 'I'm not shocked,' my teammates said.
Overcoming Setbacks:
While the Philadelphia Eagles displayed offensive firepower, they faced challenges in the red zone. Hurts's fumble at the Washington 1-yard line and Kenneth Gainwell's lost fumble at the 4-yard line resulted in missed scoring opportunities. These setbacks served as a reminder of the importance of ball security in critical situations.
Addressing his fumble, Hurts admitted, "I didn't secure the ball well enough, and that's what happens." The Eagles recognize the need to fine-tune their execution in goal-line situations to maximize their scoring potential.
Resilient Defense:
Philadelphia Eagles' defense faced a potent Washington offense led by quarterback Sam Howell, who threw for a career-high 397 yards and four touchdowns. The Eagles' defense, however, responded impressively in critical moments. Reed Blankenship's interception in the fourth quarter and Haason Reddick's late-game sack, the Philadelphia Eagles' first of the game, set the stage for D'Andre Swift's game-sealing touchdown run.
Washington's Missed Opportunities:
The Commanders, despite Howell's impressive performance, found themselves on the wrong end of the scoreboard. Coach Ron Rivera refrained from challenging a crucial fourth-down catch by DeVonta Smith, which replay showed should have been ruled incomplete. Furthermore, Terry McLaurin, Washington's top receiver, had consecutive drops that led to a turnover on downs late in the game.
Rivera acknowledged that he and his staff did not have an opportunity to review the replay of Smith's catch. McLaurin, on the other hand, took responsibility for his crucial drops, recognizing the need to make pivotal plays to support a young quarterback.
Injury Concerns:
In addition to the on-field action, both teams faced injury challenges. The Philadelphia Eagles' rookie DT Jalen Carter left the game in the third quarter with a back injury, while TE Grant Calcaterra suffered a concussion in the first half. CB Bradley Roby missed his second consecutive game due to a shoulder injury.
For the Commanders, WR Curtis Samuel injured a toe in the second half, and rookie OL Ricky Stromberg sustained a right knee injury in the first quarter, leading to his immediate exclusion from the game.
Historic Field Goal of Joey Slye of the Washington Commanders :
Joey Slye of the Washington Commanders achieved a historic milestone by nailing a 61-yard field goal late in the first half. This remarkable kick set a franchise record and marked the longest field goal of Slye's career. The kick came after a false start penalty pushed Washington back 5 yards, making Slye's feat even more impressive.
Jalen Hurts's determined performance, despite his injured knee, led the Philadelphia Eagles to a comeback victory over the Washington Commanders. The Philadelphia Eagles showcased their potential as Super Bowl contenders by improving their record to 7-1. A.J. Brown's remarkable receiving streak and the Eagles' resilient defense played pivotal roles in this thrilling win.
While both teams faced injury concerns, the historic field goal by Joey Slye added a memorable highlight to the game. The Philadelphia Eagles' ability to overcome setbacks and seize opportunities underscores their status as a formidable force in the NFL.