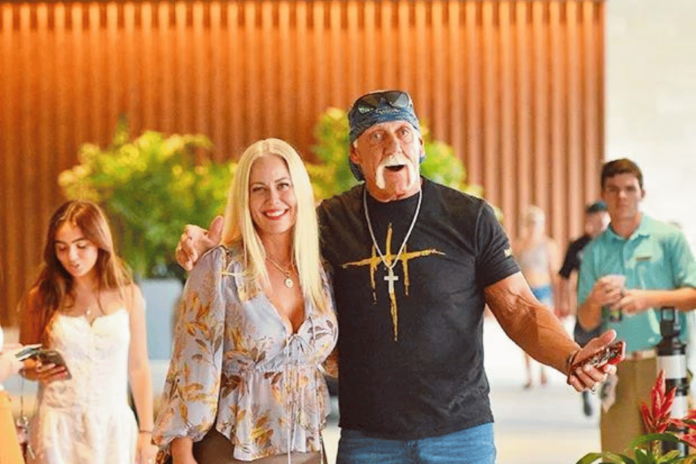 In a recent Instagram post, Brooke Hogan, known for her role in the reality show "Hogan Knows Best," shed light on the reasons behind her absence from her father Hulk Hogan's recent wedding to Sky Daily. The 35-year-old singer and entrepreneur chose to clarify her decision, emphasizing the evolving dynamics within their family as the primary factor. Despite valuing her privacy, Brooke sought to address the matter to put an end to speculation.
Brooke Hogan's Post Reveals the cause behind her absence from Hulk Hogan's Wedding:
Brooke Hogan began her post by acknowledging the inevitable changes that occur within a family unit over the years, a relatable experience for many. She pointed out that her family had undergone significant transformations, all of which unfolded in the public eye. Navigating these changes, she noted, had proven to be an exceptionally challenging endeavor.
Hulk Hogan's real name is "Terry Bollea", and he was previously married to Linda Hogan, Brooke Hogan's mother, from 1983 to 2009. They share a son, Nick Hogan, who is now 33. Following this marriage, Hulk Hogan married Jennifer McDaniel in 2010 but filed for divorce in October 2021 before beginning a relationship with Sky Daily.
Brooke explained that, for her journey towards healing and happiness, she had chosen to create some distance between herself and her family. Her focus had shifted towards individuals and pursuits that brought solace to her heart and aligned with her personal beliefs, goals, and values. Her Instagram post concluded with a simple expression of goodwill towards her father, Hulk Hogan.
The retired WWE star, Terry Bollea, and Sky Daily, a yoga instructor, exchanged vows in a modest ceremony in Clearwater, Florida, according to TMZ. In photos captured by the media outlet, the newlyweds posed together after the ceremony. Hulk Hogan was dressed in a sleek black tuxedo with his signature black bandana, while Sky Daily, at 45, dazzled in a glittering white strapless gown with a sweetheart neckline and lace train.
Brooke Hogan's support for her father has been evident in the past, notably during a controversy in 2015 when audio transcripts featuring Hulk Hogan using racial slurs about her then-boyfriend came to light. This incident led to Hulk Hogan's separation from WWE and his removal from its Hall of Fame, although he was later reinstated following a three-year suspension.
Reflecting on her father's actions, Brooke Hogan told PEOPLE in 2015 that while what he had said was undoubtedly wrong, she believed it did not represent his true character. She expressed her forgiveness, emphasizing her father's love for his children and his remorse for his poor choices. This difficult episode, she hoped, would serve as a reminder of the importance of eliminating hateful words from our vocabulary altogether.
Read More: Hyundai and-Kia recall 3-4-Million Vehicles
Brooke Hogan's absence from her father's wedding was due to the evolving family dynamics she had experienced. She chose to focus on her journey towards healing and happiness while sending well wishes to her father, Hulk Hogan, and his new bride, Sky Daily. Brooke's past support for her father during challenging times highlights the complexities of family relationships and the importance of forgiveness and personal growth.