In a significant development in the ongoing conflict between Ukraine and Russia, Ukraine launched a missile attack targeting Russia's Black Sea Fleet headquarters in Crimea. The attack left one service member missing and the main building smoldering. This incident occurred amid a series of escalating tensions in the region.
This article provides an in-depth analysis of the missile strike, its implications, and the broader context of the conflict between Ukraine and Russia.
Missile Strike on Russian Black Sea Fleet Headquarter:
On a recent Friday, Ukraine executed a missile strike targeting Russia's Black Sea Fleet headquarters in the port city of Sevastopol, Crimea. The attack resulted in the main building smoldering and raised concerns over escalating hostilities in the region. The Russian Defense Ministry initially reported the death of one service member but later changed their statement to indicate that the service member was missing.
Tensions in Crimea have been high since Russia's illegal annexation of the peninsula from Ukraine in 2014. Crimea has played a crucial role in supporting Moscow's ongoing invasion of Ukraine, making it a frequent target for Ukrainian forces.
The Attack's Significance and Implications:
The missile strike on Russia's Black Sea Fleet headquarters holds significant implications for the ongoing conflict between Ukraine and Russia. It underscores Ukraine's determination to target key naval facilities in Crimea while their summer counteroffensive in eastern and southern Ukraine progresses slowly.
Experts believe that such long-range attacks on Russian military assets in Crimea are essential to degrade morale and weaken the enemy.
This attack comes on the heels of Russia's recent missile and artillery strikes on Ukrainian cities, resulting in civilian casualties. The strikes occurred as Ukrainian President Volodymyr Zelenskyy sought additional aid from Western allies, including a meeting with U.S. President Joe Biden in Washington and discussions on a $24 billion aid package. Zelenskyy continues to work to garner international support for Ukraine's cause.
Previous Attacks and Their Impact:
Previous attacks on Crimea have resulted in civilian casualties, although there have been no reported military personnel casualties as of yet. In July 2022, an attack on the Black Sea Fleet headquarters left six people wounded, but their status as civilians or service members remained unclear.
The Russian-installed governor of Sevastopol, Mikhail Razvozhayev, indicated that there were no injuries outside the burning headquarters building following the recent missile strike. However, the full extent of casualties was not provided.
Ukraine's Strategy and Response:
The Ukrainian military claimed responsibility for the missile strike on the Black Sea Fleet headquarters, emphasizing its success in targeting a key Russian military asset. Ukraine's military leaders have pledged to continue such operations to weaken Russia's hold on Crimea and challenge its invasion in other regions.
Ukrainian military figures like Lt. Gen. Mykola Oleschuk have publicly expressed their commitment to ongoing efforts against Russian military assets.
Russia's Response and Intercepted Missiles:
The Russian Defense Ministry reported that their air defense systems intercepted five missiles launched by Ukraine during the attack on Sevastopol. It remains unclear whether the Black Sea Fleet headquarters was hit directly or by debris from an intercepted missile.
The attack triggered explosions and fires, with ambulances and emergency forces rushing to the scene. Russian authorities scrambled to manage the situation and address potential threats to residents.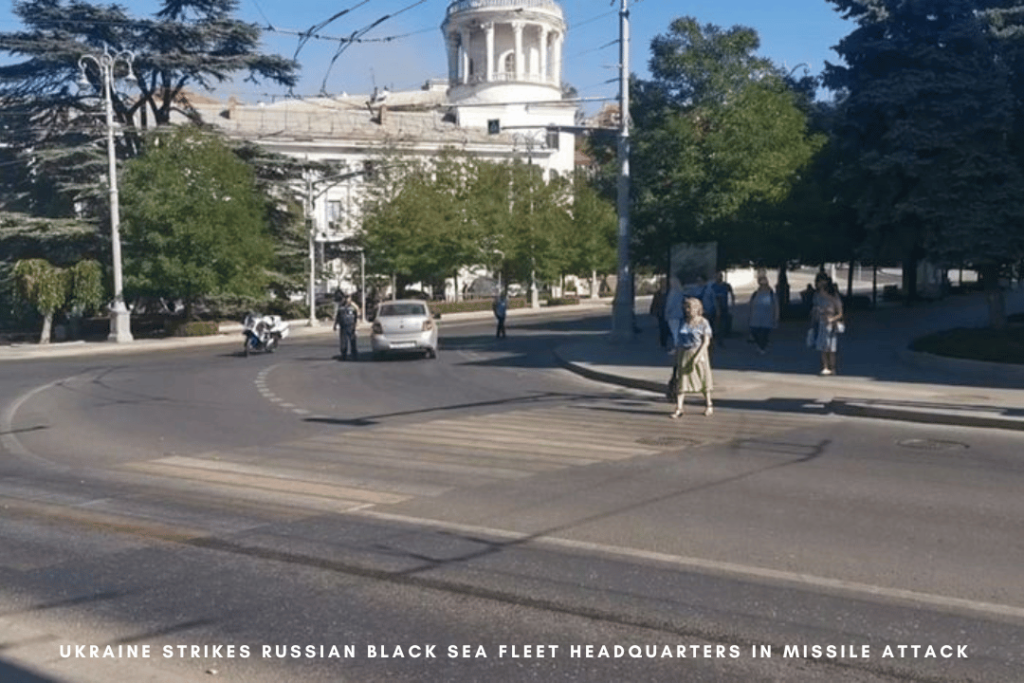 Ongoing Attacks in Crimea:
Ukraine has recently stepped up its attacks in the Crimea area. Satellite imagery revealed damage to a communications command center in Verkhnosadove, near Sevastopol. Russian-installed authorities accused Ukraine of a significant attack on a strategic shipyard, damaging two ships and causing a fire. Additionally, Ukraine claimed to have recaptured strategic gas and oil drilling platforms in the Black Sea from Russia, aiming to regain control of these assets.
Escalation in Southern Ukraine:
The conflict also escalated in southern Ukraine's Kherson region, where shelling resulted in one casualty and another injury. Fires were sparked in residential buildings and garages. In Kharkiv, over 14 settlements came under attack, causing damage to a house and igniting a fire. The situation in these regions reflects the ongoing volatility and dangers faced by Ukrainian civilians in areas affected by the conflict.
The missile strike on Russia's Black Sea Fleet headquarters marks a critical development in the Ukraine-Russia conflict. Ukraine's determination to target strategic assets in Crimea underscores the ongoing hostilities in the region.
As international diplomatic efforts continue, the situation on the ground remains highly volatile, with implications for both military and civilian populations. The conflict's trajectory and resolution remain uncertain, but efforts to de-escalate tensions and reach a peaceful resolution are essential.