In the heart of New York City, on the iconic courts of the US Open, tennis fans were treated to a spectacle that will be remembered for years to come. Novak Djokovic, the Serbian tennis sensation, demonstrated once again why he is considered one of the greatest players in the history of the sport. Facing a daunting two-set deficit and struggling with his form, Djokovic defied all expectations to stage a remarkable comeback, ultimately prevailing over his opponent, Laslo Djere, with a final score of 4-6, 4-6, 6-1, 6-1, 6-3 in the third round of the US Open. This extraordinary victory spared Djokovic from what would have been his earliest exit from the tournament since 2006.
Djokovic's ability to claw his way back from seemingly insurmountable challenges has become a hallmark of his career. Regardless of the deficit he faces or the quality of his performance, Djokovic possesses an unwavering determination that sets him apart from his peers. This tenacity was on full display in his recent match against Laslo Djere.
Reflecting on his remarkable comeback, Novak Djokovic said, "Of course, winning a match is always better than losing a match. It's as simple as that. He further emphasized the message his performance sent to his competitors, stating, I think the message is sent to the rest of the field that I can play five sets at night, and coming from two sets down always sends a strong message to the future opponents.
Despite his resilience and eventual triumph, Djokovic expressed a preference for straightforward victories, stating, But at the same time, I do not want to be in this position, to be honest. I prefer a straight-set win. So hopefully, In the forthcoming matches, we will get back on that track.
Novak Djokovic comeback:
The electrifying match began under the dazzling lights of Arthur Ashe Stadium on a Friday night and extended into the early hours of the morning, concluding just after 1:30 a.m. Djokovic's victory marked his eighth career win after losing the opening two sets of a match. Before this incredible comeback, Novak Djokovic's record at the US Open when trailing by two sets was a mere 1-6, with his sole victory coming against tennis legend Roger Federer in the 2011 semifinal.
Once Novak Djokovic seized control of the match, he held onto it with an unyielding grip, leaving Djere no room for recovery. In the crucible of the fifth set, Djokovic displayed remarkable composure, claiming 12 of the initial 14 points, leaving no doubt about the outcome.
Novak Djokovic, who boasts an impressive 38-11 record in five-set matches over his career, has captured three of his record-breaking 23 Grand Slam titles at Flushing Meadows and has been the runner-up on six occasions, including the 2021 tournament. His absence from the US Open in the previous year was due to travel restrictions as a result of the COVID-19 pandemic, which prevented unvaccinated foreign travelers from entering the United States. However, these restrictions were lifted in May of the current year, allowing Djokovic to return to the tournament where he has left an indelible mark.
In the 2023 US Open, Novak Djokovic entered as the second seed, with Carlos Alcaraz holding the top seed. It was widely anticipated that Djokovic and Alcaraz would meet in the championship match on September 10, setting the stage for a monumental showdown. However, Djokovic's encounter with Djere threatened to derail those expectations.
Novak Djokovic acknowledged the nerve-wracking nature of the match, saying, "Trust me, it was nerve-racking all the way until the last shot." For Djere, a 28-year-old Serbian, this match represented a chance to achieve the biggest victory of his career. He aspired to reach the fourth round of a Grand Slam tournament for the first time, having entered the match with a 0-6 record against top-10 ranked opponents at major tournaments.
Intriguingly, the intimidation factor that often favors Novak Djokovic in his matchups was notably absent. Djokovic and Djere share a longstanding history, having known each other for years, practicing together, teaming up as Davis Cup teammates, and even competing as a doubles pair on the tour. Consequently, the familiarity between the two players leveled the playing field in terms of mental fortitude.
The match's early stages witnessed Djere in superb form, outlasting Novak Djokovic in lengthy baseline exchanges. Djere's court coverage and consistency seemed unmatched, leaving Djokovic struggling to find a solution. Over the first two sets, Djere claimed 28 of the 44 points that lasted five or more strokes, showcasing his exceptional endurance and shot-making abilities. Djokovic's footwork appeared slightly off, and his ball control was less precise than usual, resulting in visible frustration on his part.
As the second set concluded with Novak Djokovic halfheartedly pushing a forehand return long, the match had already lasted one hour and thirty-three minutes, with Djere firmly in control.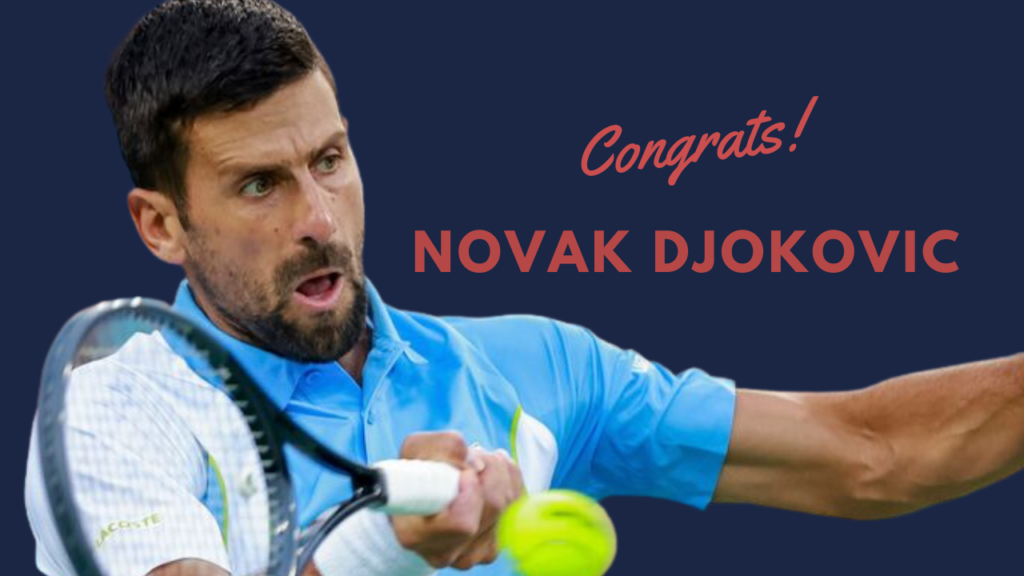 One of Djokovic's signature tactics when facing adversity is to retreat to the locker room between sets, regrouping and altering his approach. This time was no different, as Djokovic emerged from the break with renewed determination and energy.
Djokovic's resurgence began in the third set, where he finally secured a break of Djere's serve to take a 2-0 lead. This pivotal moment was marked by a grueling 27-stroke rally, concluding with Djere netting a forehand. Djokovic acknowledged the crowd's support, raising his arms and imploring them to rally behind him. The third set slipped away quickly, with Djokovic asserting his dominance.
"Once I got the break in the third, I thought, 'OK. I have a shot. I have a chance. I might as well go after it,'" Djokovic remarked. The fourth set followed a similar script, with Djokovic breaking Djere's serve early, showcasing his trademark defensive skills, and culminating in a dramatic forehand winner. Djokovic's exuberance was palpable as he turned to his coach, Goran Ivanisevic, and his entourage in the stands, shouting and punching the air twice.
In a particularly memorable moment, Novak Djokovic stretched so far to the right in a rally that he found himself wide of the doubles alley. Djere, taken aback by the unexpected return, faltered on a forehand shot, allowing Djokovic to maintain his momentum.