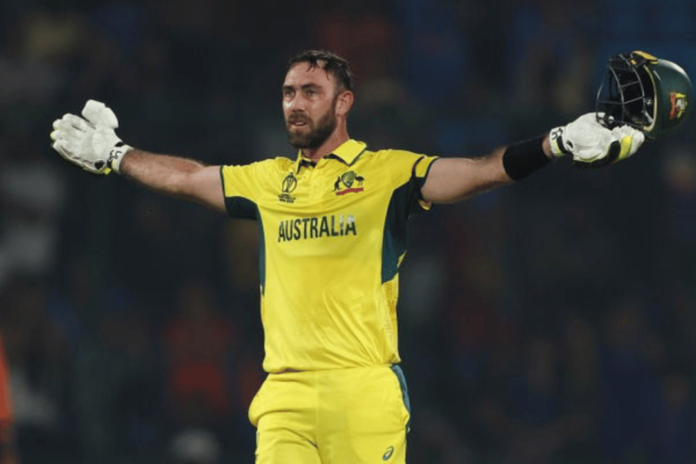 In a jaw-dropping spectacle at the Arun Jaitley Stadium in Delhi on Wednesday, October 25, Glenn Maxwell etched his name into the annals of cricket history by smashing the fastest century in ODI World Cup history. This remarkable feat obliterated the previous record set by South Africa's Aiden Markram earlier in the tournament and left spectators in awe.
Glenn Maxwell's Records in ICC World Cup 2023:
Maxwell's century he arrived in a mere 40 balls, a breathtaking display of power-hitting that showcased his mastery over the game. His explosive innings began when Netherlands' all-rounder Bas de Leede bowled a beamer to the leg stump, which Maxwell effortlessly dispatched over the long leg boundary.
Entering the crease in the 40th over, expectations regarding Glenn Maxwell's ability to reach the century milestone were modest. However, the Australian dynamo not only achieved this goal but did so with a stunning margin of nine balls to spare. Maxwell was in his element, relentlessly punishing the bowlers with various boundaries and towering sixes.
Maxwell marked his half-century in just 26 balls and reached the three-figure mark in a mere 14 deliveries, an extraordinary feat. Throughout this incredible journey to his century, he sent the ball to the boundary ropes nine times and cleared it over them on eight occasions.
After his record-breaking performance, Glenn Maxwell revealed that he hadn't felt his best when he walked out to bat. Despite this, he cleared his head and took on the challenge, especially after David Warner and Cameron Green's dismissals, recognizing the need to anchor the innings.
Even when the Dutch bowlers resorted to digging the ball into the pitch, Glenn Maxwell's audacious ramp shots showcased his supreme confidence. He explained that he believed he had enough time to go after such deliveries, and when bowlers sent the ball down quickly, his lightning-quick hand-eye coordination enabled him to find gaps and dispatch the ball over the infield.
In the earlier stages of Australia's innings, the team had a relatively sedate start as opener Mitchell Marsh fell in the fourth over. However, Steve Smith and David Warner subsequently forged a stylish partnership with a strong foundation. Smith's departure, courtesy of an exceptional catch by Roelof van der Merwe, didn't deter Warner, who continued to excel and secured his second consecutive century of the World Cup.
Eagles Strengthen Defense with All-Pro Safety Kevin Byard
While Australia did lose wickets in clusters during the middle overs, Glenn Maxwell's explosive innings ensured that the team posted an imposing total of 399 runs on the scoreboard.
This astonishing performance by Glenn Maxwell truly marks his arrival at the ICC World Cup 2023. Despite earlier low scores in the tournament, his record-breaking century off 40 balls has showcased his unrivalled skill and ability to perform under pressure. Maxwell's fearless and audacious approach to batting dazzles cricket enthusiasts worldwide.
Notably, Maxwell's recent performances had faced criticism, particularly his dismissal in the previous match against Pakistan, where he was promoted to No.3 after exceptional centuries by openers Mitchell Marsh and David Warner. The intention was clear—to attack aggressively from the outset. However, Maxwell's first-ball dismissal in that match drew scrutiny for its recklessness.
Sunil Gavaskar, former Indian captain, commented on Maxwell's performance, noting a potential fine line between being carefree and careless in cricket. He pointed out that Maxwell had veered towards the reckless side during this World Cup, especially evident in his dismissal against Pakistan. Maxwell had been batting at positions 5, 6, and 7 in the lineup, contrasting with his pivotal No.3 role at Royal Challengers Bangalore (RCB).
However, little did Gavaskar know that Maxwell would silence critics and answer with an extraordinary display of batting prowess merely three hours later. Maxwell walked in during the 39th over, just after Australia lost the wicket of Josh Inglish. However, with David Warner and Steve Smith's partnership already in place, Australia found itself commanding at 266/4 with 11 overs still to play.
Glenn Maxwell's thunderous reply with the bat broke records and demonstrated his ability to rise to the occasion and redefine expectations. This unforgettable innings will undoubtedly be etched in the ICC World Cup history books.