Post-Tropical Cyclone Lee, after making landfall on the western tip of Nova Scotia, continues to wreak havoc as it moves across southeastern New England and Atlantic Canada. The National Hurricane Center reported sustained winds of 65 mph as the storm battered the region.
Lee made its landfall on Long Island in Nova Scotia around 4 p.m. Atlantic Time (3 p.m. ET) before heading towards the Bay of Fundy and moving inland around Maine and the Canadian border with New Brunswick. Although cyclone Lee is expected to weaken, it remains a threat, bringing heavy rains, coastal flooding, and strong winds across the region through Sunday.
As of now, more than 200,000 residents in Maine, New Brunswick, and Nova Scotia are grappling with power outages, and a tropical cyclone Lee warning is in effect for certain areas. Utility power crews are on the ground, assessing damages, and responding to downed utility lines and other storm-related damage.
In response to the crisis, states of emergency have been declared in Maine and Massachusetts. President Biden has authorized the Department of Homeland Security and the Federal Emergency Management Agency (FEMA) to coordinate disaster relief efforts and provide assistance for emergency measures.
Cyclone Lee Speed and Risk:
Cyclone Lee, with maximum sustained wind speeds of 70 mph, continues to bring tropical storm-force winds, extending outward over 300 miles. Wind gusts of up to 63 mph have been reported in Knox County, Maine. Alongside the ferocious winds, Lee is expected to unleash up to six inches of rain in far northern Maine, with neighboring New Hampshire, Massachusetts, and Rhode Island also at risk of heavy precipitation.
Residents in both Canada and the United States along the shorelines are being urged to stay indoors. The National Hurricane Center's deputy director, Jamie Rhome, emphasized the dangers of driving near shores and advised people to remain at home during the storm. He also highlighted a high rip current risk stretching from southern Florida to Maine.
Rhome warned, "The waves from this big hurricane produce a current that goes out to sea and will pull you out. So, if you're going to go to the beach this weekend, swim near a lifeguard."
In anticipation of these hazardous conditions, local officials in Toms River, New Jersey, have prohibited swimming at Ortley Beach for the weekend. Violators may face tickets, but the beach itself will remain open under lifeguard supervision.
As the effects of post tropical cycle Lee are felt along the New England coast, Boston's Logan International Airport experienced a significant spike in flight cancellations on Saturday morning. According to the flight tracking website FlightAware, 23% of all flights into Boston and 24% of departing flights have been canceled, totaling more than 117 cancellations thus far.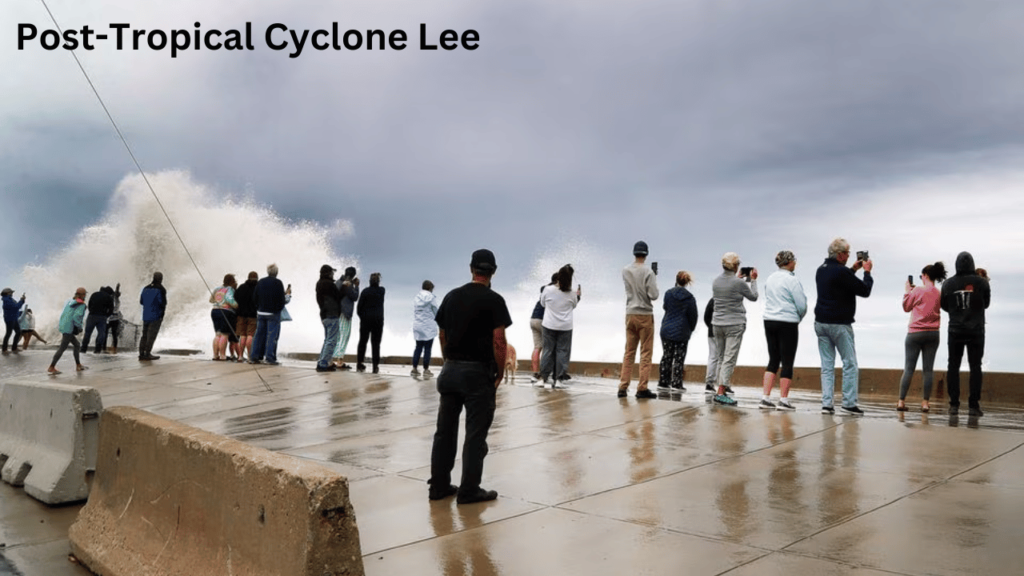 Furthermore, there is a potential for flooding of 1 to 3 feet above ground level along the coast from the Long Island Sound north through Maine if cyclone Lee's storm surge coincides with high tide, warned National Hurricane Center director Michael Brennan.
In Canada, officials in New Brunswick have cautioned residents to prepare for power outages and advised stocking up on food and medication for at least 72 hours while encouraging people to remain indoors during the storm.
Kyle Leavitt, director of New Brunswick Emergency Measures Organization, emphasized, "Once the storm starts, remember please stay at home if at all possible. Nothing good can come from checking out the big waves and how strong the wind truly is. Not only are you putting yourself at risk, but you are putting at risk the lives of the emergency services personnel who may have to assist you."
Post-Tropical Cyclone Lee continues to pose significant challenges to residents and authorities in New England and Atlantic Canada. Safety and preparedness remain paramount as the storm unfolds, impacting various aspects of life in the affected regions.