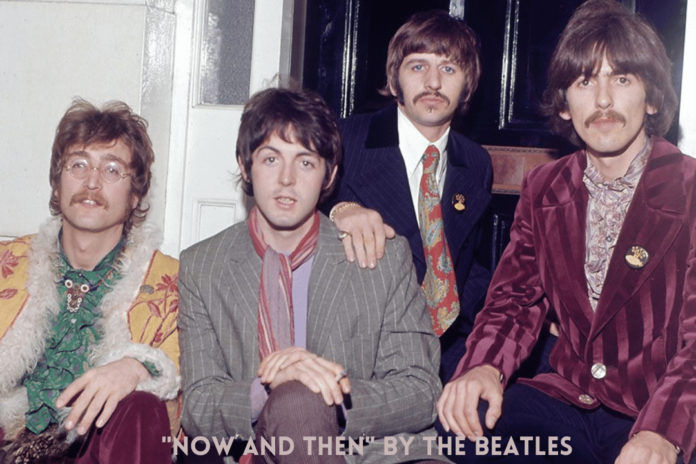 In the realm of Beatles' classics, "Now and Then" faces the inevitable scrutiny of living up to monumental tracks like "Let It Be" and "Strawberry Fields Forever." Originating as a humble demo recorded by John Lennon in the late '70s, with the accompaniment of a television playing in the background, the song has undergone a remarkable transformation from its raw beginnings into a fully realized production.
The narrative surrounding the song's production is as intriguing as the song itself, if not more so. The Beatles initiated the process of refining "Now and Then" during the mid-'90s, within the sessions that concluded the release of their previous "last Beatles songs" – namely, "Free As a Bird" in 1995 and "Real Love" in 1996.
Notably, George Harrison contributed a pivotal guitar part to "Now and Then," a significant feat considering his untimely passing in 2001. However, the original tape quality, including persistent background hissing and TV noise, hindered the song's readiness for prime time, leading to its shelving.
"Now and Then" with AI Technology:
Using artificial intelligence a technology similar to Peter Jackson's work in restoring film for his 2021 documentary, "The Beatles: Get Back" was a game changer in the revival of "Now and Then." Artificial intelligence improved the music by extracting John Lennon's voice, piano, and background noise. It should be made clear that this was an improvement of already-fab music, not an AI creating a song from the start.
Despite these advancements, "Now and Then" remains a heartfelt, lovingly crafted curiosity. The lyrics primarily convey a sense of general appreciation, nostalgia, and deep wistfulness. This emotional blend beautifully suits The Beatles in 2023, where half the band members have left the world too soon, and the surviving half reflects on Lennon's words from the vantage point of their early 80s.
Taylor Swift Touches Billionaire Status with Eras Tour, A Remarkable Milestone
However, the song may not offer profound insights, and while Lennon's vocal has been polished, it may need to align better with his original vision.
In essence, "Now and Then" presents a brief four-minute conclusion. It doesn't aim to overshadow the Beatles' illustrious catalog but instead serves as an added layer to their timeless legacy. It's a testament to the enduring influence of the band and the unwavering love of their fans.
The song "Now and Then" debuted on BBC Radio 2 and 6 Music in the UK. It is currently accessible on well-known streaming services, including Apple Music, Spotify and Amazon Prime Music, for people itching to listen to it. On the next day, physical versions of CDs, vinyl records, and cassettes will be available.
The Beatles' Red and Blue greatest hits albums will feature the song in their freshly remastered and expanded versions starting on November 10th, allowing fans to enjoy this remarkable contribution to their musical journey.
"Now and Then" may not outshine the Beatles' greatest hits. Still, it offers a fresh perspective on their everlasting legacy and provides an opportunity to celebrate each moment of their musical odyssey.
The Story of "Now and Then"
The inception of "Now and Then" can be traced back to a demo recording made by John Lennon in 1979. Yoko Ono, Lennon's widow, presented several such demos to his former bandmates in the mid-1990s. Two of these demos, "Free as a Bird" and "Real Love," were meticulously enhanced and released as part of their Beatles Anthology project, though the reception was somewhat lukewarm.
"Now and Then" was also subjected to improvement efforts but was ultimately rejected. George Harrison's candid assessment of the original recording as "fucking terrible" is a testament to the song's challenging origins. McCartney, eager to continue, reluctantly put the project on hold.
The original format of "Now and Then" finds Lennon at a piano, singing with vulnerability about an ambiguously concluded relationship. The chorus tantalizingly hints at unresolved tension, creating a desire to explore the narrative further. However, the rest of the song meanders in a muffled quest for a coherent ballad. The two surviving Beatles have meticulously revitalized this poorly recorded demo.
Adding McCartney's bass and Ringo Starr's drums imparts newfound solidity to the song's fragile structure. Even though George Harrison is no longer with us, he is still with us in the form of a guitar clip captured during the problematic recording sessions of the 1990s.
Lennon's distinctive vocals have been extracted and brought to the forefront with the aid of music-processing software, even though they still bear a somewhat thin quality. The lyrics are complemented by lush harmonies that transport us to the Beatles' signature sound. A grand string arrangement by Giles Martin, son of Beatles producer George Martin, infuses a distinctive Beatles essence into the song while adding a touch of cinematic emotional depth.
McCartney delivers a slide guitar solo, homage to Harrison's unique style. It's interesting to note that Harrison didn't begin playing slide guitar until 1969, when The Beatles were on the verge of their breakup. "Now and Then" conjures an alternative future for the band, offering a glimpse of what a big-budget rendition of a minor-key curiosity might have sounded like had the Beatles not disbanded.
"Now and Then" by The Beatles may not attain the iconic status of their greatest hits, but it is a treasure unearthed from the past that allows fans to appreciate the band's journey anew. Its transformation from a humble demo to a fully realized production is a testament to the enduring magic of The Beatles' music.