On Sunday, September 24th, the running world witnessed another remarkable feat as Eliud Kipchoge, the 38-year-old double Olympic champion from Kenya, secured his fifth Berlin Marathon victory. This triumph marked Kipchoge's return to racing after finishing sixth in April's Boston Marathon. Kipchoge's performance was nothing short of exceptional, as he crossed the finish line alone with a stellar time of 2 hours, 2 minutes, and 42 seconds.
Eliud Kipchoge Strategy (Berlin Marathon):
Kipchoge's victory was not without competition, as fellow Kenyan Vincent Kipkemboi trailed him by a mere 31 seconds to secure the second position. Tadese Takele from Ethiopia followed closely, finishing just 11 seconds behind Kipkemboi. In the early stages of the race, Kipchoge, along with Derseh Kindie and three pacemakers, quickly established a significant lead over the rest of the field. Notably, Amos Kipruto, last year's London Marathon winner, found himself in the second group.
Within the first three kilometers of the race of Berlin Marathon, the leaders were already 16 seconds ahead of the world record pace, which extended to 23 seconds at the 16-kilometer mark. However, as they reached the halfway point in 1 hour and 22 seconds, they fell 13 seconds behind the world record pace. It was at the 26-kilometer mark that Kipchoge broke his focused state to communicate with the remaining pacemaker, Hillary Chepkwony. Despite slipping behind the world record pace, Kipchoge continued to push forward.
With just over 10 kilometers left in the race, Kindie began to lag behind the pace and eventually stopped, followed by Chepkwony, who exchanged fist bumps with his NN Running Team training partner before withdrawing. Although the chasing pack closed in during the latter stages, they couldn't pose a significant threat to Kipchoge's dominance.
In reflection, Kipchoge expressed his feelings after the race, acknowledging that the outcome didn't align with his expectation of breaking the world record. He emphasized the learning experience of every race, indicating that despite the win, there were valuable lessons to take away.
Looking ahead, Kipchoge addressed the prospect of defending his Olympic title. He conveyed that the outcome of the Berlin Marathon had minimal influence on his plans. He affirmed his commitment to putting all his experience to use in the upcoming Olympics in Paris, to become the first human to secure a third Olympic victory in the marathon.
Tigist Assefa Strategy (Berlin Marathon):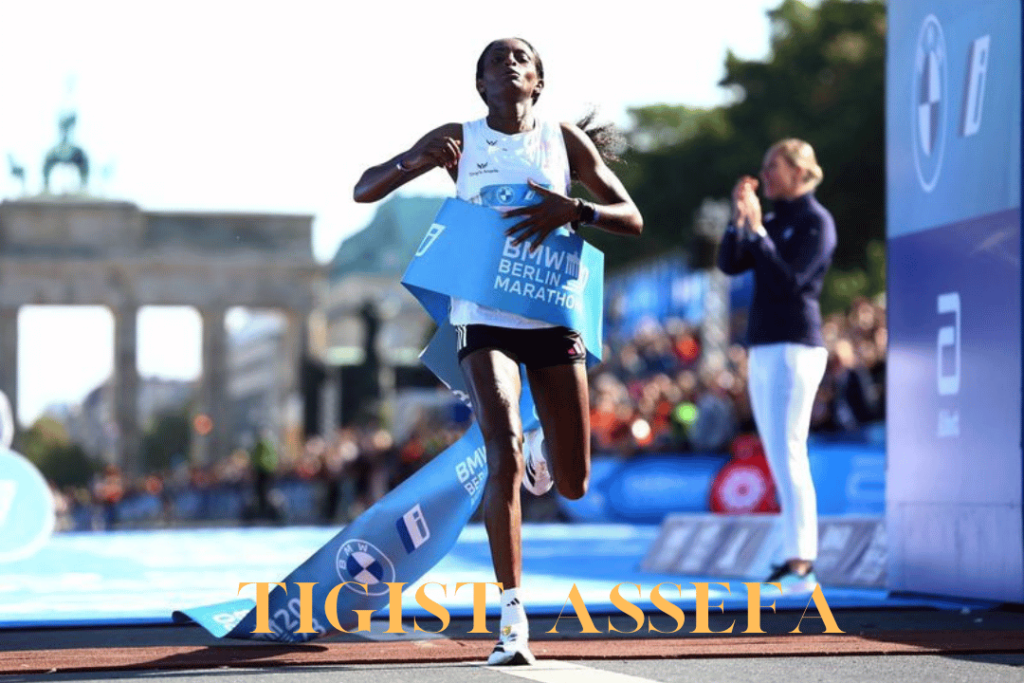 Meanwhile, in the women's race, Tigist Assefa, last year's surprising winner, and fellow Ethiopian Workenesh Edesa showcased an incredible performance in Berlin Marathon. Edesa, however, couldn't maintain her pace and gradually fell behind Assefa after the 15-kilometer mark. Assefa's determination shone through as she reached the half-marathon point in 1 hour, 6 minutes, and 20 seconds, surpassing Brigid Kosgei's record from Chicago four years ago by 39 seconds.
With her male pacemaker, Azmera Gebru, by her side, Assefa continued to gain momentum, drawing closer to an extraordinary achievement. As she entered the iconic Brandenburg Gate, Assefa's energy remained high, and she crossed the finish line in an astonishing time of 2 hours, 11 minutes, and 53 seconds. This feat shattered Brigid Kosgei's previous women's world record of 2 hours, 14 minutes, and 4 seconds by more than two minutes.
In the women's race, Kenya's Sheila Chepkirui secured a distant second place with a time of 2 hours, 17 minutes, and 49 seconds, while Tanzanian marathon debutante Magdalena Shauri got the third position in 2 hours, 18 minutes and 41 seconds in Berlin Marathon.
Reflecting on her incredible achievement, Tigist Assefa attributed her success to a year of dedicated hard work. She admitted that while she had hoped to break the record, she never expected to do so by such a substantial margin. Assefa's remarkable performance marked a historic moment in women's marathon running, showcasing the extraordinary talent and dedication of athletes in the sport.