On Sunday, Southern California saw two separate natural occurrences: a rare tropical cyclone made landfall in the area, and an earthquake shook Ventura County.
Residents were caught off surprise by the magnitude-5.1 earthquake, which struck at 2:41 p.m., as they were already dealing with Hurricane Hilary's aftermath, which brought much-needed rain during the generally dry month of the year. Numerous aftershocks occurred, some of which had magnitudes of 3.0 or greater.
About 80 miles northwest of Los Angeles, the earthquake's epicenter was four miles southeast of Ojai. Numerous towns and cities, such as Ventura, Camarillo, Oxnard, Newbury Park, Thousand Oaks, Simi Valley, Santa Barbara, portions of the San Fernando Valley in Los Angeles, Malibu, Porter Ranch, Manhattan Beach, and others, felt the trembling.
The trembling and frightening sound was captured by surveillance cameras at the Tres Hermanas restaurant in Ojai. The lovely town of Ojai, which is close to the Los Padres National Forest, has a bustling downtown with bars, shops, and art galleries.
Thankfully, no immediate reports of major damage were made. The Lake Casitas Dam, Matilija Dam, and the city of Ojai were all confirmed to be undamaged in aerial inspections carried out by the Ventura County Sheriff's Department.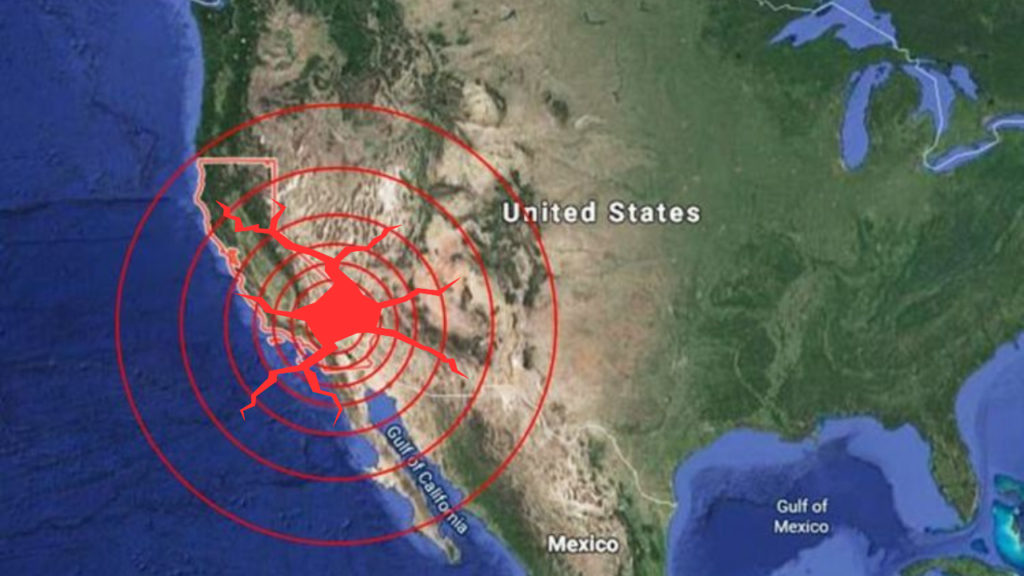 All 106 neighborhood fire stations in Los Angeles went into Earthquake Operation mode and began looking for damage. The earthquake's location was significant, according to seismologist Dr. Lucy Jones, as it was the first one of that size to strike that region since 1932. She also highlighted that the recent occurrence was west of the magnitude-5.1 earthquake that struck in 1941, and that some of the 1994 Northridge Earthquake's aftershocks were east of the current location. Dr. Jones issued a warning that further earthquakes were probably coming in the coming days.
Intriguingly, the hashtag #hurriquake soon became popular on social media in the wake of the earthquake, drawing attention to the uncommon coincidence of a tropical cyclone and an earthquake taking place at the same time.
The uncommon tropical storm that made landfall in the Los Angeles region for the first time in decades coincided with this earthquake. Due to the expected rain to last until Sunday night, much of Los Angeles County was placed under a flash flood warning, while Southern California was under a tropical storm warning.
On September 25, 1939, the last tropical storm to make landfall in Southern California lost its hurricane designation just before it reached Long Beach, with disastrous results.
On their phones, millions of residents in Southern California received emergency messages that came one after the other, first alerting them to a flash flood and then informing them of the Ventura County earthquake.
Southern California experiences a high frequency of earthquakes for several reasons:
Southern California is located at the intersection of the Pacific Plate and the North American Plate, two significant tectonic plate boundaries. These plates are continuously shifting, and as a result of their interactions such as subduction and lateral sliding, geological tension is occasionally released in the form of earthquakes.
One of the most well-known fault lines in the world is the San Andreas Fault. It passes across California and is to blame for many of the state's earthquakes. The fault is a hub for seismic activity because it accommodates the motion between the North American and Pacific Plates.
Complex Fault Systems: The San Andreas Fault is just one of many interrelated complex fault systems in Southern California. Earthquakes can also be produced by these minor faults.
Southern California is a portion of the Pacific Ring of Fire, a horseshoe-shaped region near the Pacific Ocean's shores where frequent earthquakes and volcanic eruptions take place. There is a lot of tectonic activity in the Ring of Fire.
Long History of Seismic Activity: California has experienced earthquakes for ages. Significant earthquakes like the Northridge earthquake in 1994 and the San Francisco earthquake in 1906 are part of this history. These occurrences serve to emphasize the area's seismic susceptibility.
California has a high population density and many residents reside in earthquake-prone locations. This makes earthquake occurrences more noticeable and significant.
Building standards: Although California has strong building standards and codes in place to lessen seismic damage, earthquakes can still cause a great deal of inconvenience.
Despite being particularly vulnerable to earthquakes, California is also a leader in earthquake research and preparation. In the state, scientists, engineers, and first responders put up a lot of effort to comprehend and reduce the risks related to seismic activity. Despite how frequently earthquakes occur, a lot has been done to make infrastructure and buildings more earthquake-resistant.