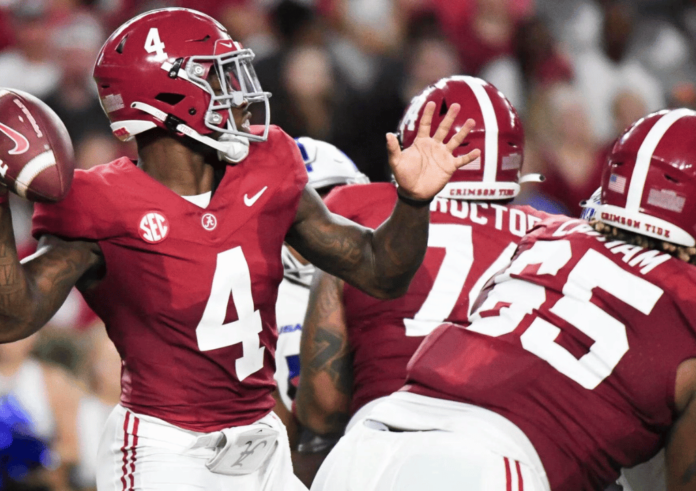 In a highly anticipated nonconference showdown, No. 3 Alabama is set to host No. 11 Texas at Bryant-Denny Stadium on Saturday night. This college football clash promises to be a battle of blue blood, and it brings back memories of their nail-biting encounter last season, where Alabama narrowly edged past Texas. With both teams harboring high expectations for the 2023 season, this matchup is a chance to prove the doubters wrong and make a statement on the national stage.

The Quarterback Battle:
One of the key storylines heading into this matchup is the performance of the quarterbacks. Last season, Bryce Young struggled for Alabama, but he has since moved on to the NFL. On the other hand, Texas's Quinn Ewers, who showed promise in the previous meeting before an injury, is back to lead the Longhorns' charge. The quarterback duel will play a crucial role in determining the outcome of this game and could be a deciding factor for both teams.

Expectations and Pressure:
Both Alabama and Texas enter this season with lofty expectations. Alabama, despite being perennial contenders, failed to secure the SEC title last year, while Texas has been trying to shake off the label of underachievers. Alabama has faced questions about the longevity of the Nick Saban dynasty, while Texas has often been prematurely declared as "back." This game presents an opportunity for both teams to silence their critics and establish themselves as top contenders in the 2023 season.
Game Details:
Date: Saturday, September 9 Time: 7 p.m. ET Location: Bryant-Denny Stadium, Tuscaloosa, Alabama TV: ESPN Live Stream: fubo (Try for free)

Impactful Performances:
In their respective previous games, Jalen Milroe for Alabama and Quinn Ewers for Texas have shown flashes of brilliance. Milroe's five-touchdown performance against Middle Tennessee showcased his potential as Alabama's quarterback. Ewers, despite being sidelined by injury last year, demonstrated his ability to ignite the Longhorns' offense. Both quarterbacks will aim to carry that momentum into this high-stakes clash and make a significant impact on their team's performance.

Saban's Dominance:
A noteworthy statistic in the lead-up to this game is Nick Saban's remarkable record against his former assistants. Saban's former aides have struggled, with a 2-28 record against their former mentor. However, it's crucial to note that even coaches who have never worked under Saban have found it challenging to defeat his teams. Saban's unparalleled success and coaching prowess make him a formidable opponent for any team, including Texas.
Prediction and Picks (Alabama vs Texas):
Despite the historical underachievement associated with Texas, this matchup presents a unique opportunity. Texas boasts a talented roster and, arguably, the better quarterback. While it might seem unusual, there is a genuine chance that Texas could secure a victory against Alabama. This game has all the makings of a thrilling contest, and it wouldn't be surprising to see the Longhorns emerge victorious.

The clash between Alabama and Texas in 2023 promises to be a defining moment for both programs. With high expectations and a quarterback duel to watch, fans can anticipate an intense battle on the field. Whether Texas can overcome its underachiever tag and pull off a statement win against Alabama remains to be seen, but one thing is certain: college football enthusiasts are in for a treat with this matchup.