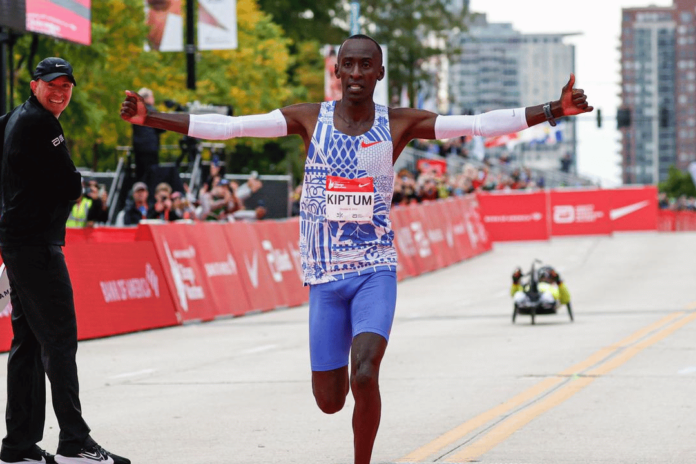 Kelvin Kiptum, a 23-year-old Kenyan runner, performed an unprecedented achievement during the Chicago Marathon, not only earning victory but also smashing a new world record. In a race where no other participants were visible on the horizon, Kiptum's unofficial finishing time was at an amazing 2 hours and 35 seconds. If validated, this amazing performance will break the previous record established by two-time Olympic champion Eliud Kipchoge at the 2022 Berlin Marathon by a margin of 34 seconds.
Kelvin Kiptum's Outstanding Perfomance:
Moreover, Kelvin Kiptum would register his name in history as the first athlete ever to complete a marathon in under 2 hours and 1 minute, eligible for a record.
"I knew I was coming for a course record, but a world record — I am so happy," cried Kiptum, expressing his elation. "A world record was not on my mind today, but I knew one day I would be a world record-holder," he stated, as reported by World Athletics.
The drama erupted early in the race, with Kelvin Kiptum and fellow Kenyan Daniel Mateiko breaking away from the pack around the 5-kilometer mark (3.1 miles). Neck and neck, the two athletes maintained their proximity until about the 30-kilometer mark (18.6 miles), when Kiptum unleashed an astounding burst of speed, leaving Mateiko behind in his wake.
Sadly, Mateiko finally had to quit from the race, yielding the spotlight to his compatriot Benson Kipruto, who secured the second-place result. Belgian runner Bashir Abdi completed the podium in third position. Impressively, four American runners – Conner Mantz, Clayton Young, Galen Rupp and Sam Chelanga – also managed to secure positions in the top 10.
On the women's side of the tournament, Olympic track champion Sifan Hassan from the Netherlands claimed a victory with an impressive performance of 2 hours, 13 minutes and 44 seconds.
Remarkably, Sunday's run marked only Kiptum's third-ever marathon and his maiden marathon in the United States. In April, Kiptum had already made ripples in the running world by achieving the second-fastest time in marathon history, an incredible 2 hours, 1 minute and 25 seconds at the London Marathon.