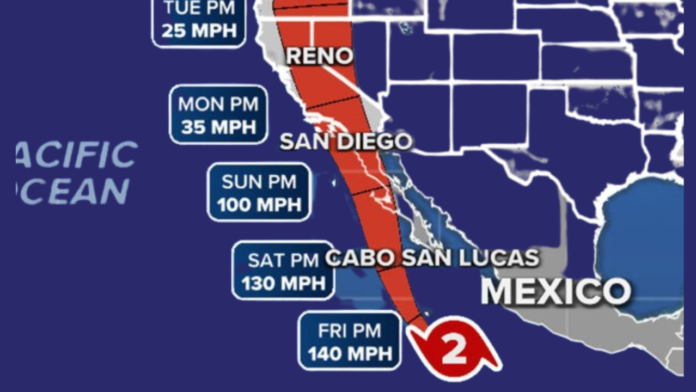 On Monday, Southern California and the Southwest of the United States prepared for the aftermath of former Hurricane Hilary. More flash flooding and hazardous mud and rock slides are possible, according to forecasters. The National Hurricane Center emphasizes the prospect of "life-threatening and locally catastrophic" flooding.
Prior to making landfall on Sunday, Hilary first became a Category 4 hurricane Hilary before losing strength and becoming a tropical storm. It had been downgraded to a subtropical cyclone by early Monday morning. There had previously been multiple rockslides, flooding, and power disruptions in the area.
This was the first time a tropical storm has touched down in Southern California in 84 years. In some arid and mountainous regions, including Palm Springs, Hurricane Hilary poured more than half of the usual annual rainfall. By Sunday night, Palm Springs had received about 3 inches of rain. Numerous Southern Californians were left without electricity, and Palm Springs' 911 system went down on Sunday night.
The anticipated level of flooding is as follows:
The Southwestern United States is expected to experience "intense heavy rainfall associated with Hurricane Hilary" up until early Monday morning, according to the National Hurricane Center (NHC). Parts of Southern California and Southern Nevada are predicted to get rainfall totals of 3 to 6 inches, with isolated locations receiving up to 10 inches, creating a major risk of severe to catastrophic floods.
In addition, 1 to 3 inches of rain, localized flash flooding, and up to 5 inches of rain in certain places are predicted for sections of Oregon and Idaho through Tuesday.
Concerns about dangerous flash floods in Nevada's western Mojave Desert, which is highly susceptible to it, continue to exist. According to a statement made on Sunday on social media by NWS Las Vegas, this is seen as an extremely unusual incident.
According to CBS News Los Angeles, Southern California has been experiencing significant rainfall, especially in Los Angeles and the surrounding counties.
While San Bernardino, Riverside, and the neighboring mountainous areas are at a high risk of flash floods, the National Weather Service has categorized Ventura County as having life-threatening flooding. As a result, San Bernardino and Riverside Counties have received evacuation orders, and Orange County has received evacuation alerts.
According to CBS Los Angeles, the Inland Empire and mountainous regions are at a high risk of flash floods, and some places might get 6 to 10 inches of rain.
Regarding Hurricane Hilary's response:
In California, Hurricane Hilary was located about 390 miles north of San Diego, 75 miles northeast of Bakersfield, and heading north at 29 mph with top sustained winds of 35 mph as of 5 a.m. ET on Monday. Even though it is no longer considered a hurricane, the region continues to experience significant rains.
This incident was the first time that Southern California has received a tropical storm warning from the National Hurricane Center. In advance of Hurricane Hilary's arrival, California Governor Gavin Newsom issued a state of emergency.
On Sunday, President Biden made the announcements that the Coast Guard had prepared aircraft for quick reaction and rescue operations, and that he had ordered FEMA to send troops and supplies to California. He also mentioned sending federal workers to Nevada to offer more assistance and to coordinate with Arizona, California, and Nevada for any resources required.
The Los Angeles Unified School system, the second-largest school system in the nation, declared all schools, campuses, and after-school programs closed on Monday due to the storm. Later on Sunday night, Pasadena Unified School District did the same.
Additionally, the San Diego and Orange County public beaches, as well as a number of state parks, were all temporarily closed by the California Department of Parks and Recreation. Disney California Adventure Park, Disneyland Park, and the Downtown Disney District all had early closures announced by Disneyland on Saturday.
In order to better prepare for the storm's effects, the San Diego Padres, Los Angeles Dodgers, and Los Angeles Angels switched their Sunday home games to doubleheaders on Saturday.
When will Hurricane Hilary's effects be felt in Las Vegas?
The Weather Channel predicts that Nevada will receive heavy rain through Monday morning, with the possibility of flooding in Las Vegas and reports of "significant flooding" in Death Valley National Park. On Sunday afternoon, Nevada Governor Joe Lombardo issued a state of emergency, citing Tropical Storm Hilary's "imminent impact". The proclamation warned of the possibility of serious harm to both public and private property, as well as to several transit routes. Following the mobilization of 100 National Guard personnel in preparation for the tropical storm.